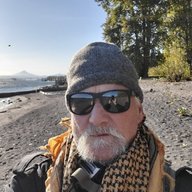 Joined

Nov 30, 2019
Messages

55
Location
Long time smoker (40+ years), other than cough, no problems. I am in Washiington State, a cannabis legal state, and right after i started buying legal weed i started feeling waves of nausea. Sometimes i might sneeze hard two or three times which helped. Worse in the mornings... soon no sneezing and vomiting, almost every morning, helped to sit up to sleep (hard to do in a tent). Completely feeling miserable, loosing weight fasy, zero appetite.
Research online leads me to this syndrome, and i experiment to see if it is real. Seems to bear out, relief in 48 hours post bud. Fuck.
I see GI doktor but keep the ganja use to myself, being a child of prohibition. Frau Doktor is mystified, finds no problem.
So, this is all of course self-diagnostic, but tests have proven it accurate.
Guess i am done with de herb.
Cannabinoid hyperemesis syndrome (CHS) is a condition that leads to repeated and severe bouts of vomiting. It results from long-term use of marijuana).
www.cedars-sinai.org