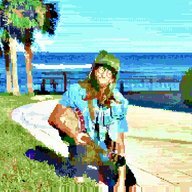 Joined

Feb 16, 2012
Messages

279
Age

28
Location
Website
Im going to post updates from my attempt to get my van back on the road after sticking around in tennessee for a couple years while trying to straighten out address stuff and working a shit job. ill try to do videos for each update and possibly some photographs as well.
[update 1] (last week) ive had a horrible time over the past two years getting a permanent address necessary for keeping my wheels road legal. I have an 89 e250 cargo. i left it parked on my friends Tennessee farm for a few years and figured it would be fucked by the time i returned. well yesterday i made the trip up there to check on her. new battery, oil change, removed squirrel nest from air filter, and started it up. she still runs like a champ and kept alright in the elements. im returning this weekend to change the gas and possibly relocate to a better spot for working on getting it on the road again. it was really nice hearing that v8 running and seeing the space i used to call home. really hope i can get everything i need to register it asap. just thought i'd post here..
[update 2] i returned yesterday with the intention to replace the gas and give her a test drive, but the mud leading to the property im parked at made this trip less productive. i did manage to capture some video though. oil hasn't leaked,battery holding charge, tires look okay, still starts right up, but i gotta get new gas in it. not sure if i should siphon the tank first or just add around 5 gal and some sea foam motor treatment or something to the tank. going to change the fuel filter too. really not liking that old fuel sloshing around in there. ill likely return sometime this week to get more done and im currently trying to get enough proof of address to get a state id and registration taken care of. video below-

more to come. i'll post updates below.