Joined

Jun 19, 2021
Messages

97
Reaction score

173
Location
Website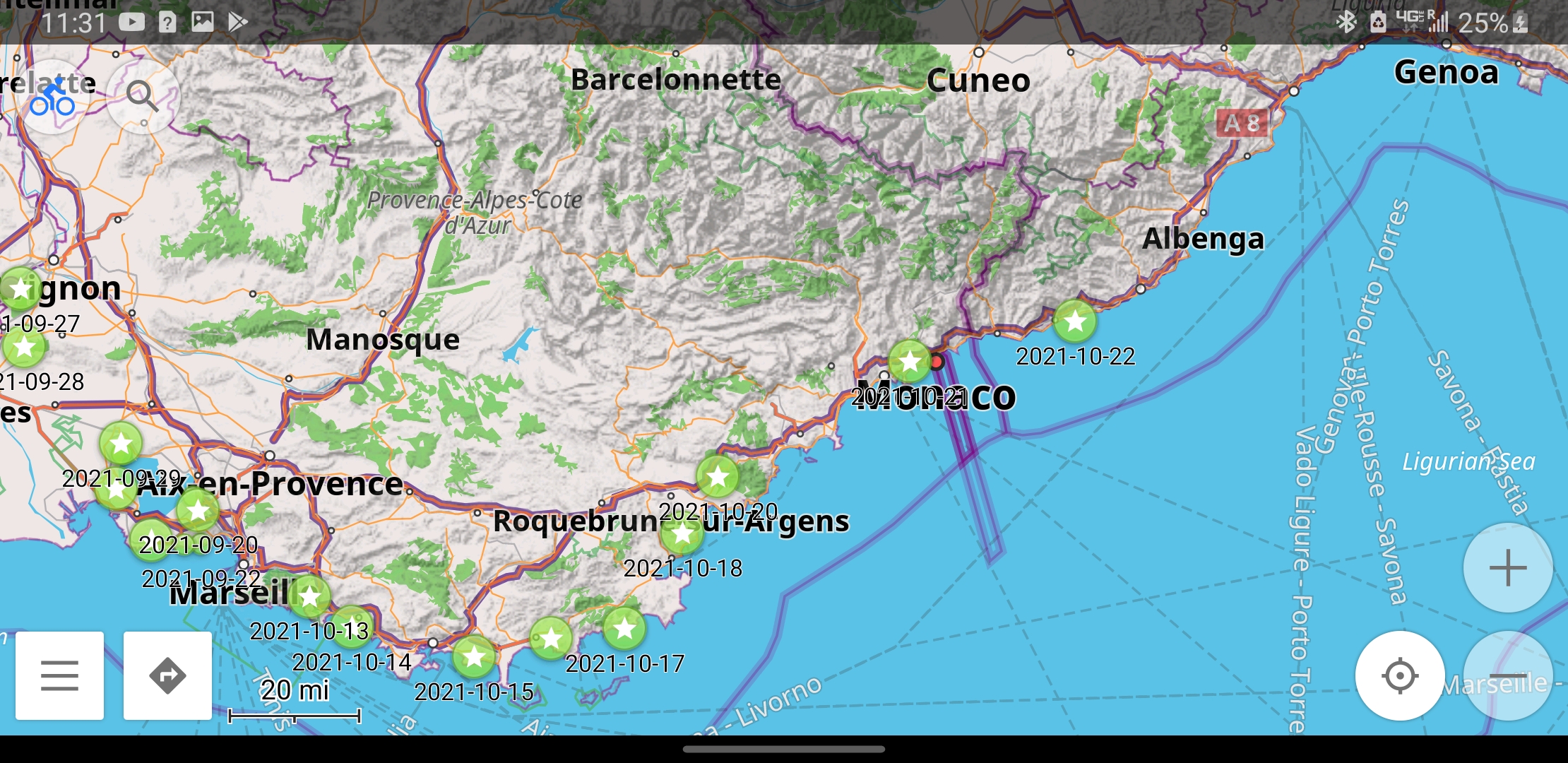 Crossed into Italy today and right off I liked it better. But backing up a bit helps explain why.
In general more people drive and drive faster in France than in Spain (and maybe Italy) in my opinion. And people are especially packed in along the coast in France between Nice and the Italian border near Monaco. Nice looked interesting by the way, fancy people and museums, maybe I'd try exploring it someday.
I was struck by how familiar the coast east of Toulon seemed. Very like parts of coastal California. That was the point of the following photo.
This almost looks like a Spanish mission church.
There's usually a botanic garden with collections of plants from other "Mediterranean" climates. Here's the map of one I went by: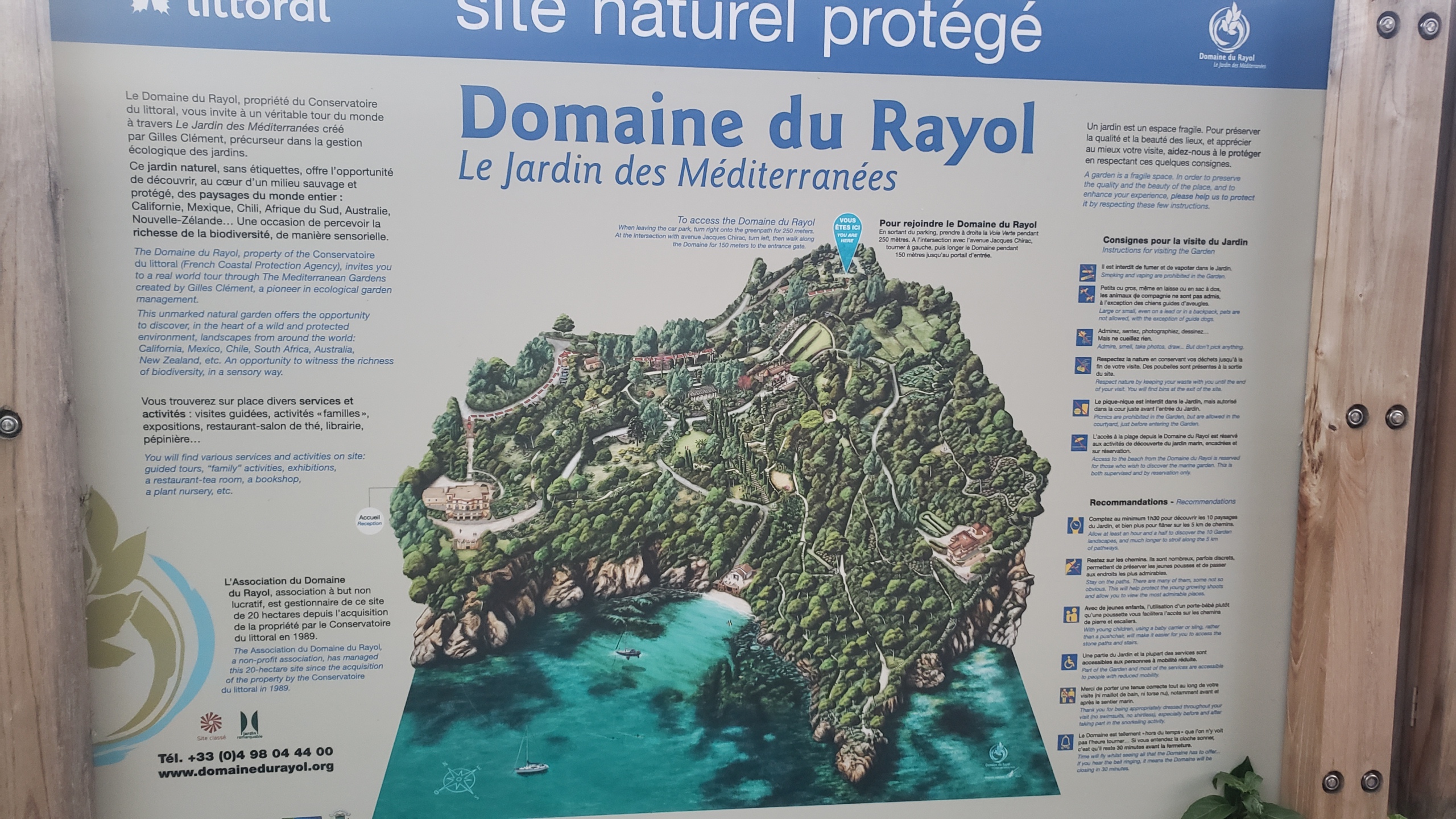 One i know of in the US is in Concord, CA.
And here's the first sighting of the nefarious goat head thorn so far on this European trip. I've been surprised that France doesn't seem to have many of these even in agricultural areas.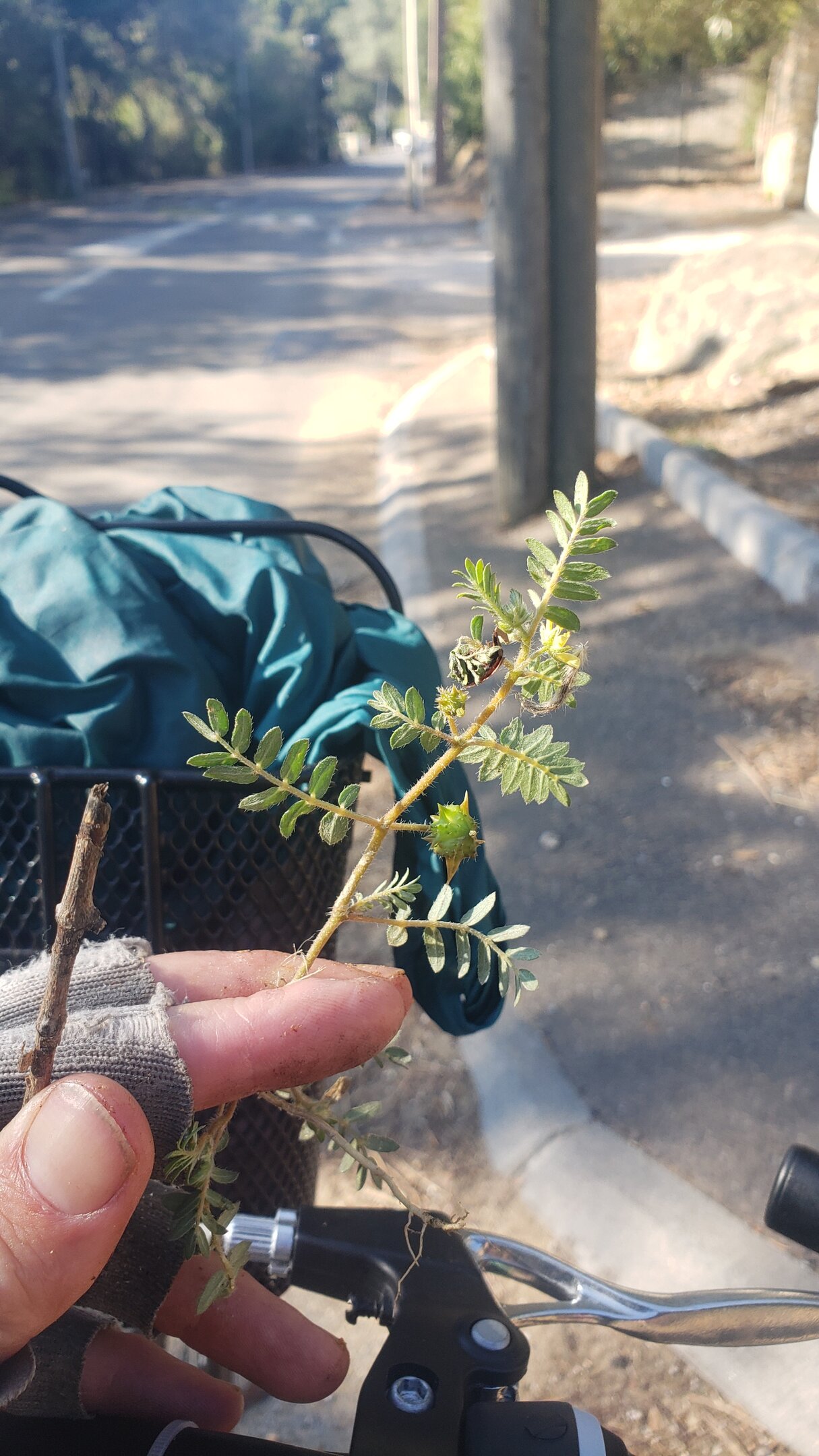 I've now learned to keep an eye out for them both dry and green. I once rolled into a patch in Serbia with cheap tires and no extra tubes and had to spend an hour or so patching six holes in my front tube.
Outside of Nice I followed the Google cycle directions on a route that took me up and around Monaco.
It turned out to take me to part of one of the long distance Euro velo bicycling routes. It's also apparently a tour de France stage. So while there was still a fair amount of car traffic there were many bicyclists including one racing team.
There's a
reconstructed monument to the Roman conquest of the tribes in the Alps
that i went right by. The cities and buildings on the hillsides are impressive enough and then I come around a corner and see that huge thing sticking up.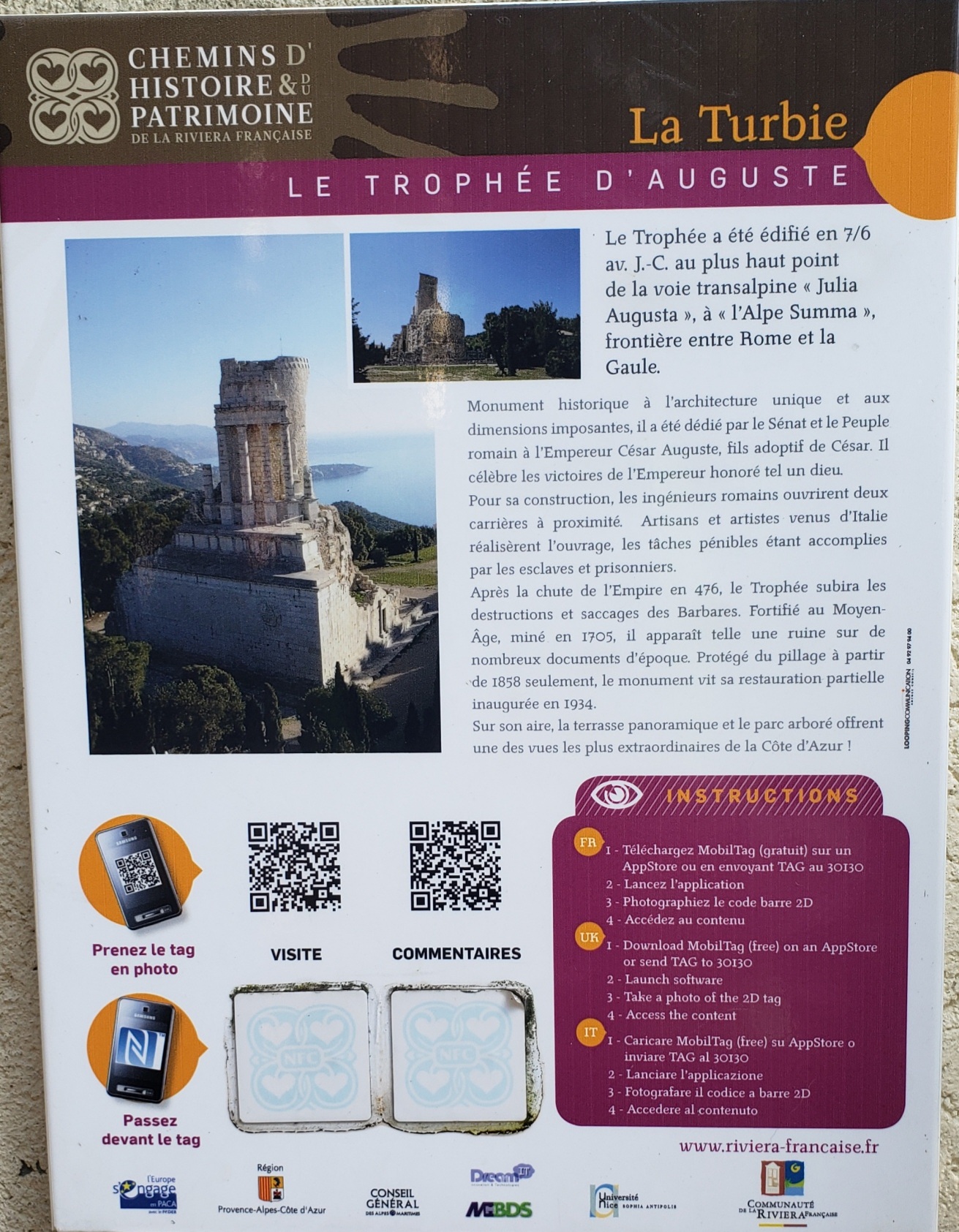 It was an American,
Edward Tuck
, who paid to partially reconstruct the monument. It had been knocked down and used to build other things, like a church.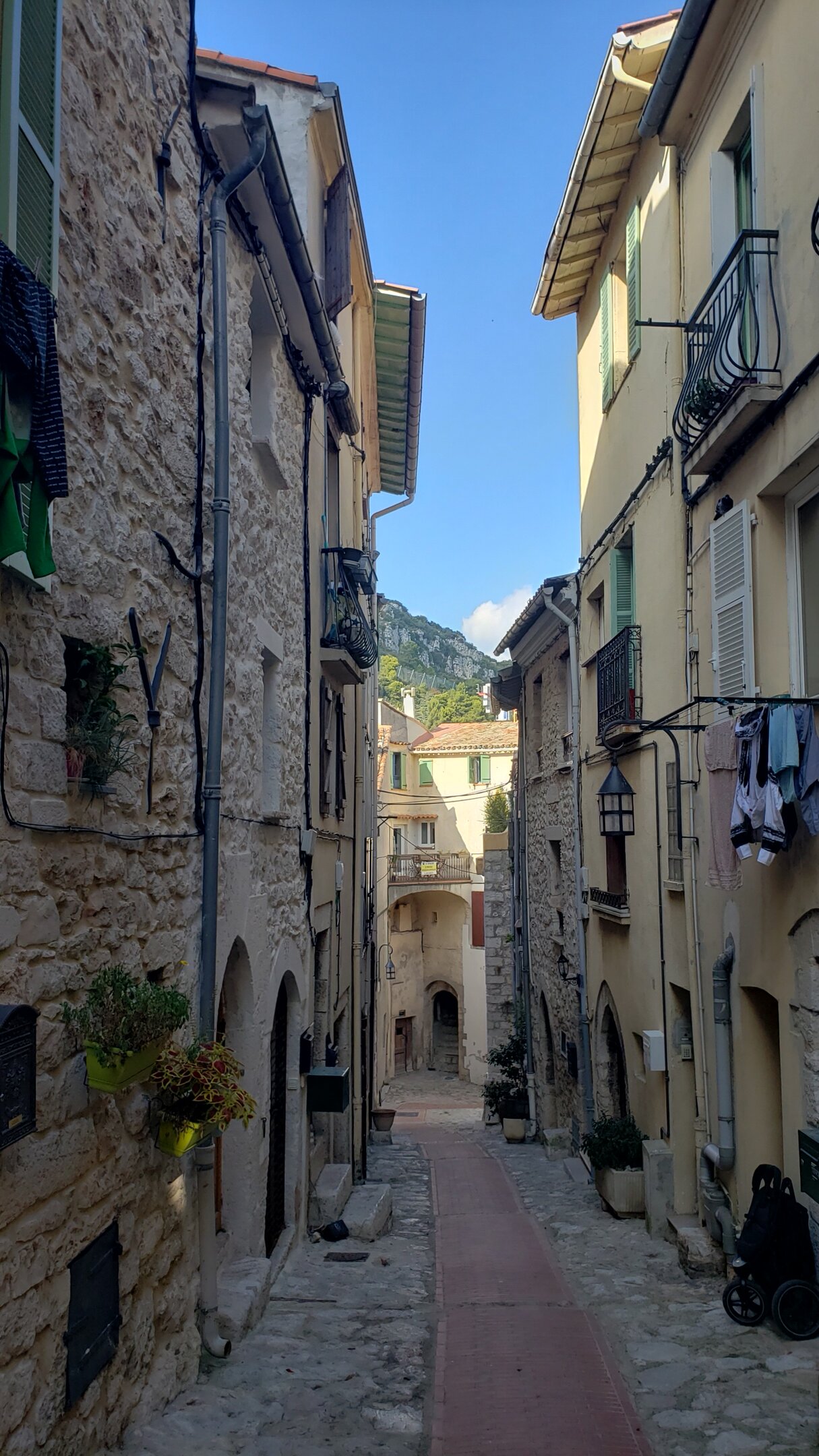 The narrow streets of the town near the monument.
And this, I believe, is Monaco from above: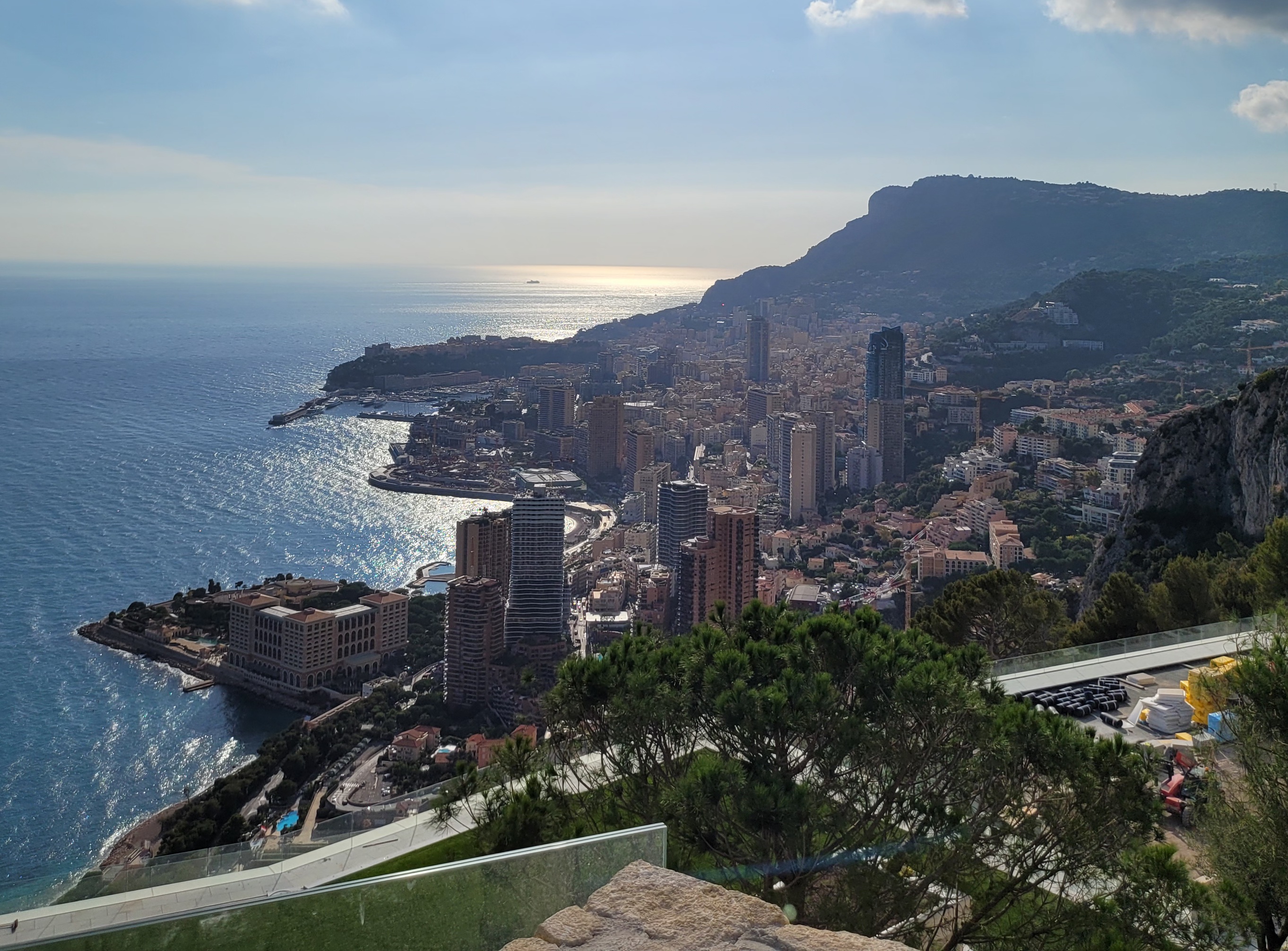 I have little interest in lingering in these built up places. Back in 2001 it was cool to go through Monaco. And other much bigger cities. Now I generally just pass through quickly.
And so I arrive to Italia.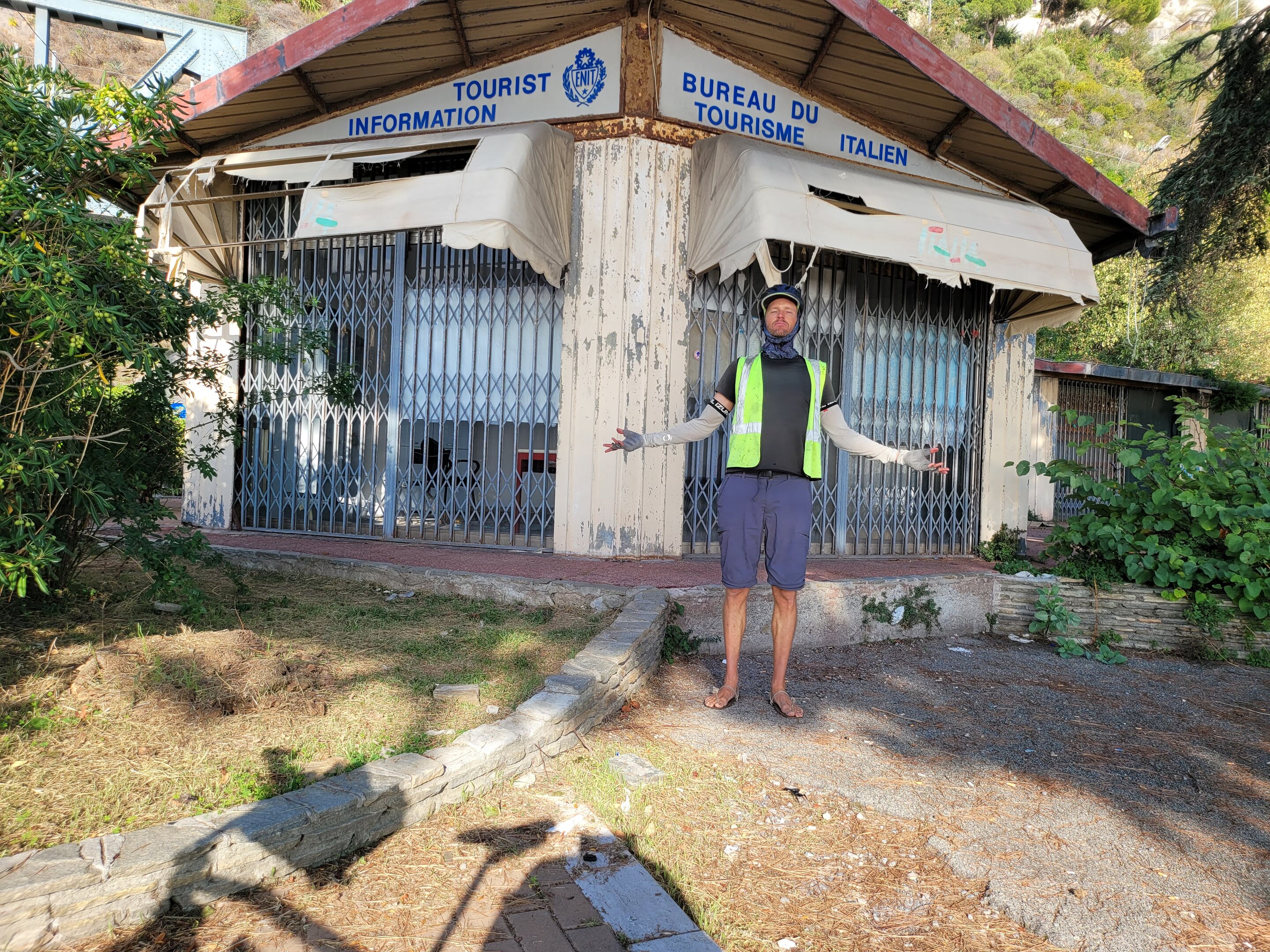 Now this is the kind of Europe I feel more at home in. It's instantly more rural. Where in France there were buildings here there were gardens and mini farms and orchards on the hillsides. And while there's still a lot of traffic it's going slower and there are spaces of multiple seconds where no one is passing me. Even through the middle of Ventimiglia, it was almost like cruising down a street where the lights are timed for bicycle speed. And the road was relatively flat as well.
Here's a red clay tennis court:
The picture was taken from a beautiful wide (20') pedestrian boulevard below huge old hotels. This was the town before San Remo,
Ospedaletti
.
It's beginning in Ospedaletti that they've replaced the old train line with a rail trail. Which I didn't realize until later, so I missed the first section and a long railway tunnel.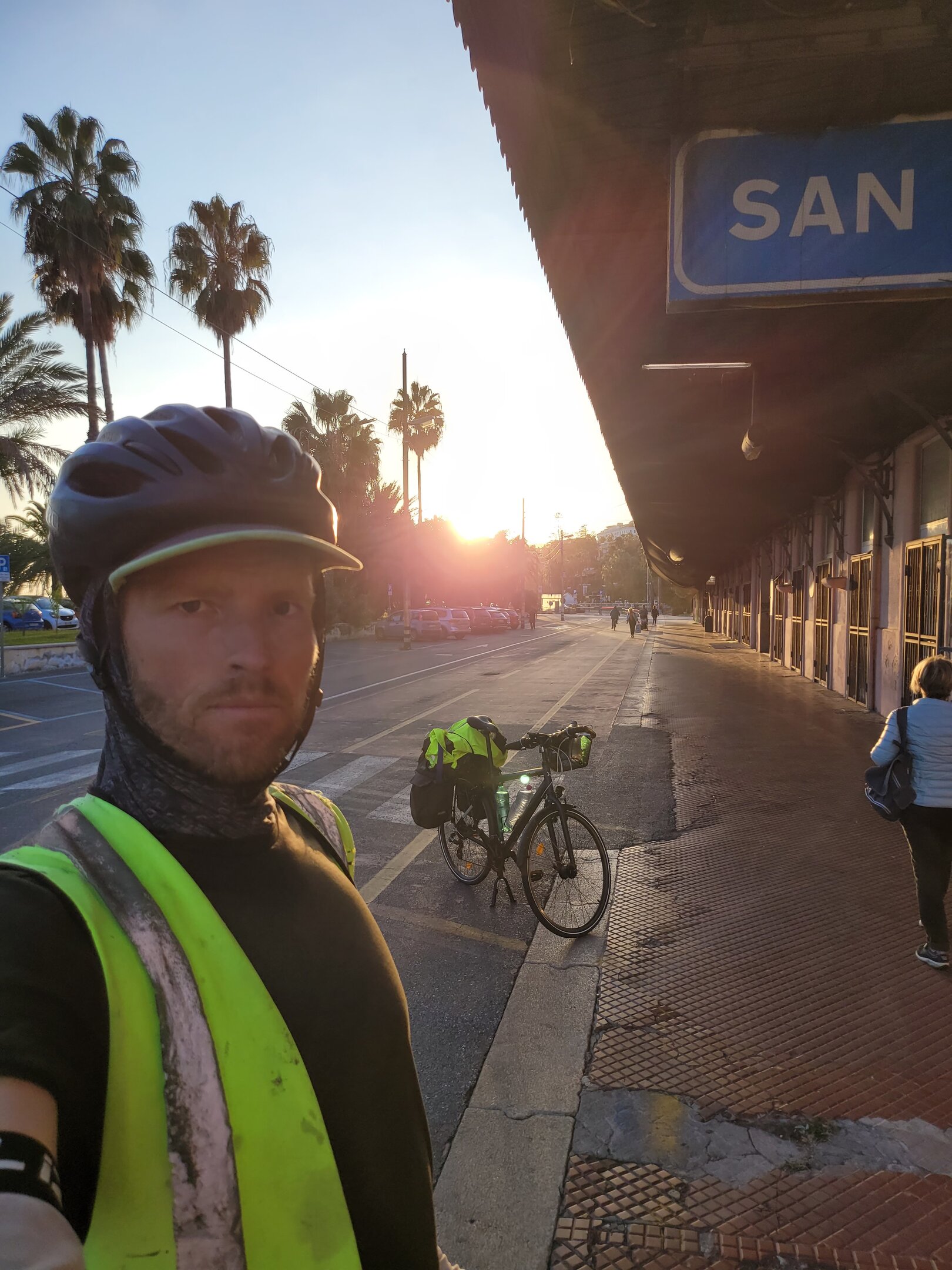 I wonder if the train was still here in 2001? I finally found the answer: it was replaced in September 2001 by a
new underground train tunnel with two tracks
!
This has been a day of mini reversals, like what happens at the end of fun movies or plays.
At first i thought for a least two hours that my data sim was not working in Italy, contrary to my plans and expectations. I already bought two more refill codes for two more months. . .
But then i got a message from Orange welcoming me to Italy and saying that everything should work.
Then i figured i needed to enable "roaming data usage" in the connection settings of my phone.
And then it worked. It appears Orange is using the TIM network in Italy.
And while biking on the main road here was better than in France i was amazed to discover a rather epic rail trail. I mean this is beginning to approach Switzerland levels of amazement (the swiss have buried and sound dampened their highways around lakes and near cities. . .)
But then until just now i was thinking they just tore up their railway and replaced it with a bike trail (the American way), but no, they freaking tunneled under everything and built a new two-track railway. Really makes you think/ reinforces the idea that there are powerful forces in the US trying to keep it a nation of car drivers. I suppose it worked on me. . . I left.
It really is far more relaxing to be in countries where men and women can't really express their masculinity or attempt to assert dominance by driving huge trucks. Here it's road bikes or motor cycles or the occasional Bugatti, Ferrari, etc.
There are the rich folks in euro land rovers, but that's about it. The next biggest thing before buses are maintenance and delivery trucks.
The standard F250 UC Santa Barbara maintenance truck may be bigger than nearly everything on the road here except for large delivery trucks and busses.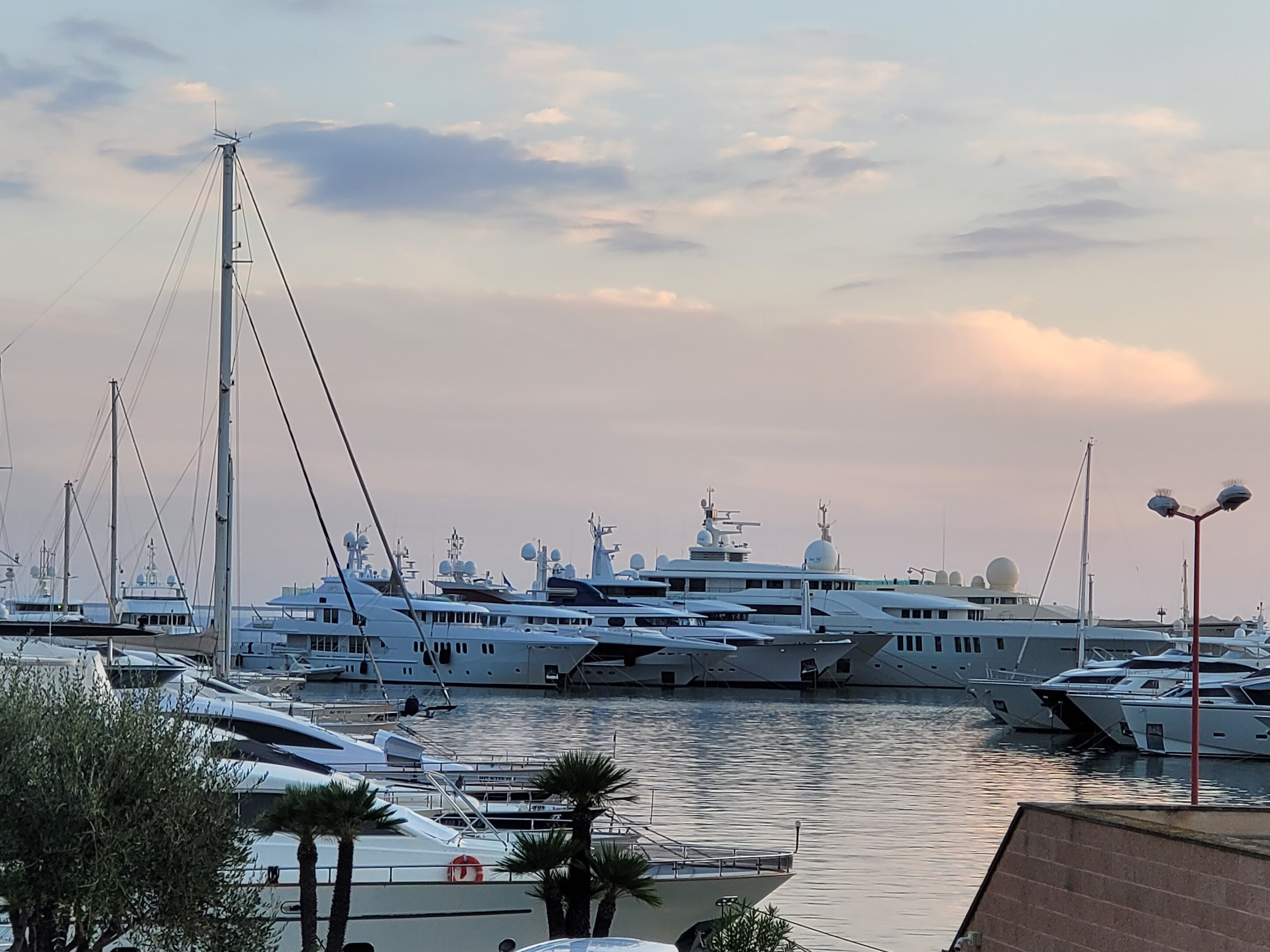 Oh yes, yachts are another option. Those are parked in San Remo. Let's just say there is a lot of empty indoor space on land and on sea in these parts. But for the moment I'm happy to leave the effort of maintaining all that to them. . . It's fairly hard to hang a hammock in those places anyways.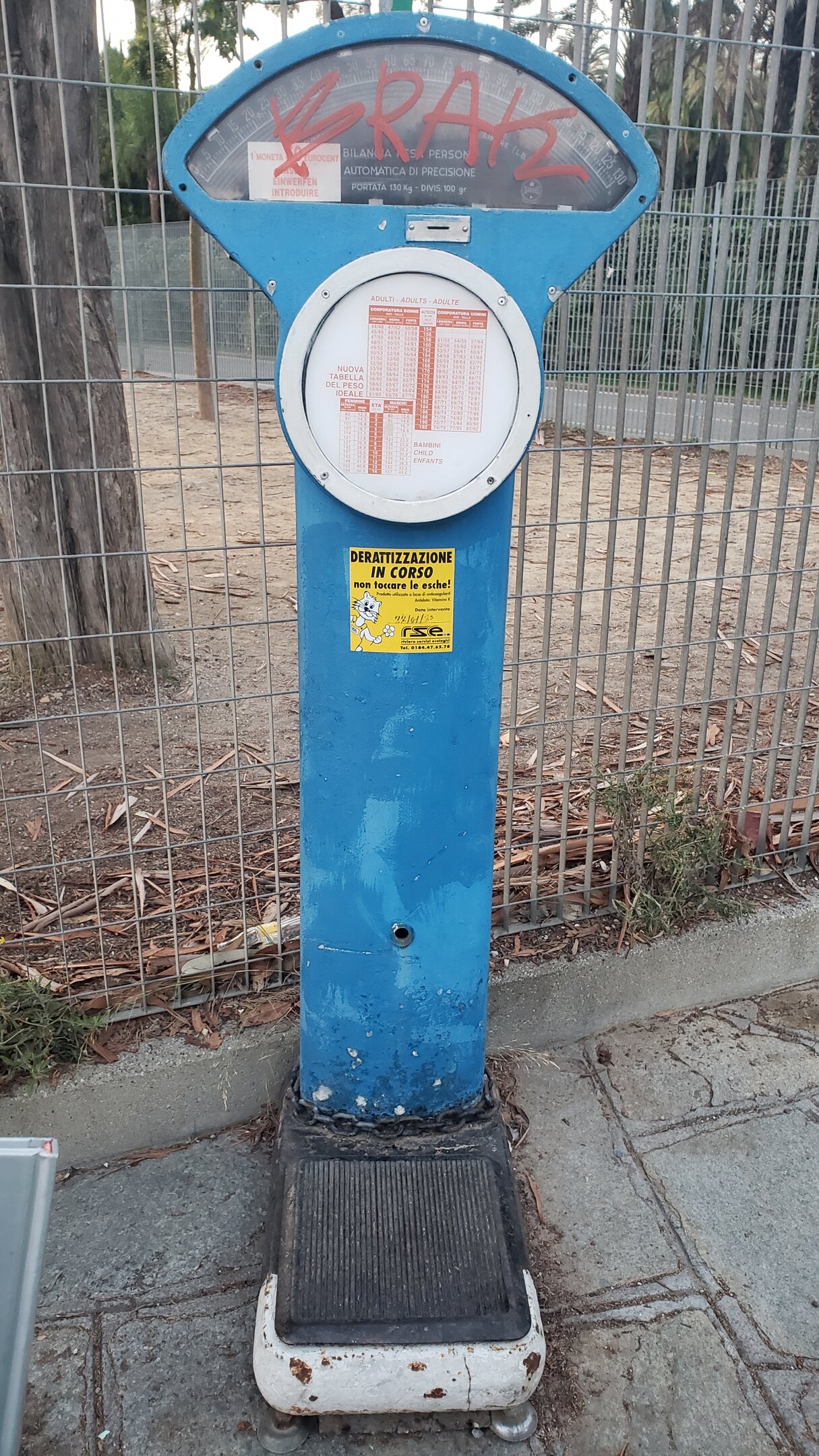 These scales were placed about town. To encourage healthy living I believe. But, when they were working, looks like you still had to pay to check your weight.
That's the big news here. I hope there will not be too much excitement until Massa Marittima though there are interesting towns between here and there.
Oh, yes i wanted to recommend a piece of gear.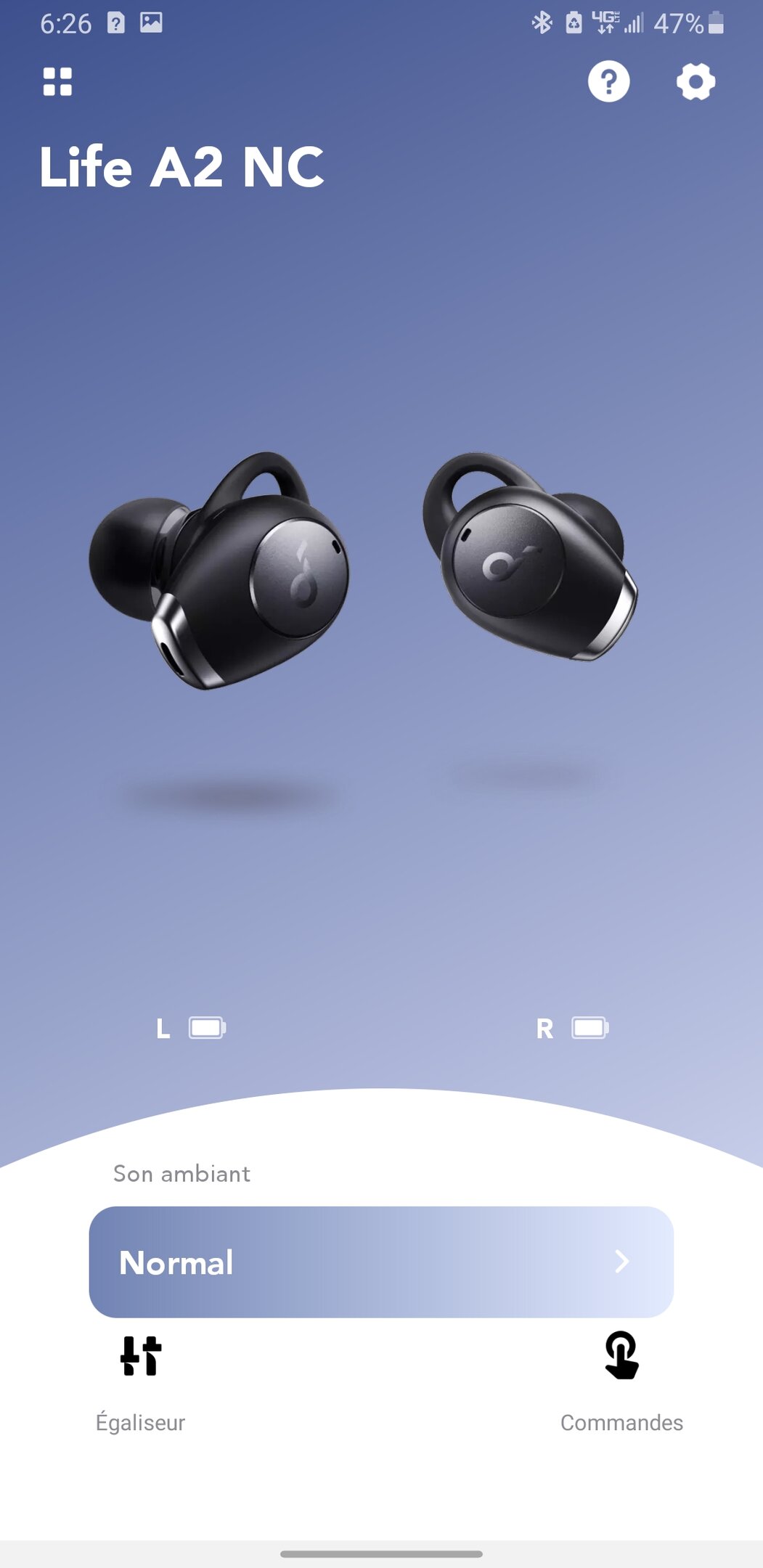 That's by
soundcore
. I got mine on Amazon for $59.
They're useful for listening to driving directions from osmand or Google in traffic. Or listening to audiobooks. The cars and trucks are so loud there is no danger of me not hearing them. And if you're along an interstate, the noise cancelling function actually reduces some of the noise stress.
I'm also carrying some sony WH1000XM4s, which i use in camp to reduce noise stress. I can even sleep with them on and have done so near highways, dance parties, barking dogs, and hurricane remnants in the blue ridge.
So one way to get more comfortable with a new language is to download
YouTube Vanced
, and the corresponding music app and listen to music/ watch videos in the language you're interested in. Which can especially help if the videos have subtitles in that language so you can begin to distinguish separate words.
Plus there's some interesting stuff to be found.
At any rate, Italy is the land of Lina Wertmuller. . . If you haven't seen her movies, check them out (free on hoopla/kanopy)
Swept Away
stands out the most to me right now. And I just found out today Madonna made a
copy/knockoff of it
with the same title.
Anyways here's some of the good (to me) french songs i found, followed by one interesting Italian one.
Just search for italia + pop for example to try finding other good ones or at least ones with subtitles.
Last edited: