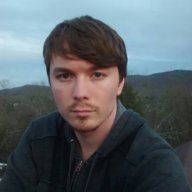 Joined

Jan 22, 2015
Messages

9
Location
Website
I'm avoiding my homework to tell you guys about an idea I've had bouncing around my head for a while. trigger warning: 2edgy ahoy.

So I took in a homeless kid.

He's 22. His dad died three months ago. He's in my town fresh out of rehab. I met him in Taco Bell slumped over a table waiting for his piece of shit flip phone to charge. My landlady says I can have a guest for only 10 days at a time, and I had to make the offer. My dad died eight months ago, and while I've never been to rehab, I've been on the street.

This kid has some fucking stories. We can walk down the street together and he'll be able to find all the needles and empty heroin tickets. He'll go for a cigarette hunt while I'm in class and tell me about the insane shit that happens when he runs into the homebums he's befriended since he's been here, mostly his fellow rehab alumni.

Thanks to milking the system for everything I could, I've gotten my hands on some photo and video equipment. I want to film my city's dirt. I want to interview the bastards and scumbags. I want to show the world the guy who thinks he's Jesus and has a plan to summon a fleet of starships to wipe out the whole fucking world. I want to shoot a documentary full of blurred faces and altered voices as the paranoid fucks check their locks again for the third time that night or as the prostitute does her rounds in the Arby's parking lot. And I want to juxtapose it with the posh lie that my city endlessly vomits out, overdosing on it's own ego. Even my fuckin' landlady threatened me with eviction for keeping the kid too long. I want to use my camera as a weapon, and the truth as violence. I want to tear this place apart.

Be on the look out. I'll be sure to share it here when it's done, even if it is just an endless orgy of rambling hobos. If you've got any tips or advice or even want to be in the damn film, swing by wilmington NC and we'll fuckin' party.