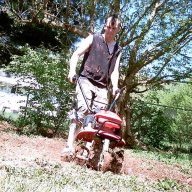 Joined

Aug 17, 2011
Messages

11
Reaction score

30
Homebase
Get you mind out of the gutter. I said my PACK is too small. And you were about to tell me to buy some Extenz.

Seriously though... getting ready to leave I wrote out my packing list, checked it twice, rechecked it against posts on here to see what I was forgetting, then got down to business putting it together.

I've got a Jansport and a fancy midsized pack that my late fiance traveled with. I just assumed that I'd be using the latter of the two. But once I started getting everything stowed I realized that most of it is either worn, worn on my belt, strapped on, etc. So what I had left I was able to fit in the small Jansport. Even have room in it for my water bladder and a couple days worth of food (which isn't in there yet).

So I'm wondering, am I underpacking? I see others hauling around these huge packs and I'm thinking I might be shorting myself.

And this is only mildy off topic but I was wondering your opinion on this. In considering a spare shirt to bring I've got it narrowed down to a couple, which either one I hope could be of some financial benefit. I've got an Iraq Veteran shirt... ya know... with the ribbons on it like you see a lot of Nam vets wearing, and I've got an Iraq Veterans Against the War shirt. I'm wondering which one might have the average citizen dig a little deeper?