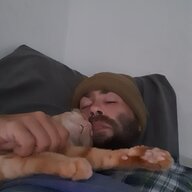 Joined

Feb 8, 2021
Messages

3
Reaction score

5
Location
Howdy howdy all! Name is Coyote.

I had an account here years back, but hell if I can remember the name (RIP braincells). Wasn't active much anyway.

Used to travel a fair bit, locally, around central FL (Trucky/Tavelsized), Fell into the rat race, settled down, got chewed up and spat out. I love some of the roots I've laid down over the years, but as I get older, I realize I absolutely do NOT want to spend the rest if my life in Florida.

My feet are getting itchy again. If nothing else, I want to see another state one more time, even if I do feel pulled back. Hoping to meet some decent folks who can make that trip a bit more interesting, wherever and whenever it happens.

Rubber tramping is my preferred means of travel. Bad knees and back makes any other way difficult (partly why I settled down).

So, yeah... that's me, I guess.