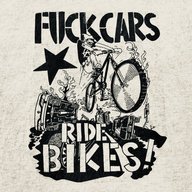 Joined

Jun 25, 2016
Messages

136
Location
If I remember correctly, I believe the camp spot was some kind of county run public spot. There was 5+ camp sites with plenty of room for multiple bike campers to set up on. First come first serve free location with I believe a 5 day limit. I don't see it being an issue if 20 bikers showed up, we would just have to share camp sites.

I don't think I for one would be able to meet up monthly, as I'm constantly on the move looking for work. When I have enough money to float for awhile, I aimlessly travel. I'm pretty booked working this current summer, which the job I'm working now will land me in Florida for the winter.

If we have the interest in the community we could start planning for next summer.

Also,

@Dunedrifter

, can I recommend to you that if you are on the move

bike touring

and want to meet similar travelers, post a thread in the meet up or bike touring section for when and where you will be somewhere and for how long. Never know who is close unless you ask! Safe travels and fly low!
I wouldn't be able to meet up monthly either, I was just saying that meet-ups could occur monthly (or randomly) at different locations so they wouldn't be confined to one place, once a year.
I was thinking of planning one for next summer too, so anyone whose interested can PM me (us), and we can start working out the details on the side.
@Koala
,
@Crazy Hobo Johnny
,
@Mrcharwe
,
@Banjo
and anyone else.
Thanks for the reminder about STP's meet up section; I forgot about that. I'm planning to quit my job in October and embark on a yearlong journey circumnavigating the US and
Canada
.