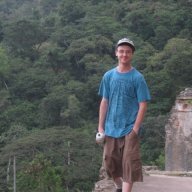 Joined

May 31, 2013
Messages

173
Age

32
Location
Website
that's what I recently started using for a tent. I can wrap the tent stakes with the string, fold up the tarp and fasten to pack, and carry walking stick. The walking stick makes a great prop for
hitchhiking
. When I'm incognito (camping in an orchard), I can set up the tarp wide and short (hot dog fold) so it's only 3' tall or so and this fits 4 people comfortable, keeping them dry, and of course it's brown and green to blend in with nature. When I'm at a legit camp spot, I can fold the tarp into hamburger fold, fasten the rivets on ground cover, fasten tarp to top of walking stick, prop up stick and tie to tent stake pulling top stick away from tent, fasten the loose flaps that's on top open side to where they hang snug to the ground. It stands tall enough to sit up in, and can fit 3 people snug with enough room for stuff.
You don't really have to have a walking stick, but I like walking sticks.
Downsides are it's open and always lets mosquitoes in. The cheap tarps are kinda fragile so you gotta take it easy on them or they fall apart, rivets fall out, what not. And the wind can pull it up like a parachute and pull the tent stake right out of the ground so use plenty of tent stakes.
to see how it's done, google image "tarp tent"