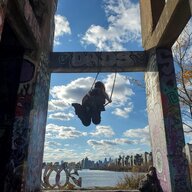 Joined

Aug 24, 2017
Messages

353
Location
Alright, alright. I know this is a long ass shot since it's been nearly two years buuuuut. Anyone on here remember being in Tampa (Ybor City specifically) on February 9-11of 2016?
I was with a friend walking around Ybor in the pm hours and passed by a group (3-5 people) flying a sign. One chick, the rest dudes. They had a pit. All stereotypically "crust punk" looking people, late 20s to 30s. Mainly one dude (who was real big, white, raspy voice) and the chick (also white, average size) were talking to me as I passed by. The girl could tell I was interested in them/was ~punk~ in one way or another. She stopped me after I passed them for the third or so time and asked me where I was from/where I'm going/why I'm there. "Just get up and fucking go while you're young" was the advice she gave me once I said I wanted to travel like them.
At the time I wasn't ready and "hopefully one day" was all I could manage to say back.
At the time I had bright ass green hair on top, shaved sides, way too big for me denim jacket with buttons and patches. I was with a really quiet, thin, tall, light skinned black guy with dreads.
Again, I know it's a long shot but I figured I'd look into it. I wanna tell them that it took me two years but I'm fucking finally going and thank them for giving me the best life advice I've gotten.