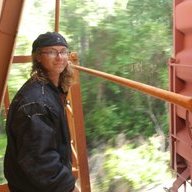 Joined

Aug 3, 2013
Messages

359
Location
Website
Ok, so it's gotten to that point where I need new gear. By new I just mean I need to upgrade as I have no issue with used gear as long as it works. I just got a used Kelty Cosmic 0 degree sleeping bag, but I need recommendations on a bivy sack to purchase. I get paid in a few days and I'm looking to buy something with the following:

-100% waterproof and windproof
-Preferably ultralight
-Mesh mosquito net to make it breathable when not raining
-dark color available...none of this neon yellow shit

I looked into the REI minimalist bivy and it looks promising, but I don't know if it comes in other colors than neon green and how it handles in continual, unfavorable camping conditions.

My last bivy I purchased was supposed to be waterproof, but it ended up just being water resistant. If you have used a particular bivy sack that you recommend I would greatly appreciate any guidance so I continue looking prior to buying something.

I searched the forums but did not find any recommendations in this sector. The main thing I'm looking for is breathability and waterproof. The other shit is a plus but I find those most important. Thanks.
Last edited by a moderator: