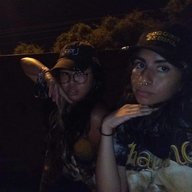 Joined

Jul 13, 2012
Messages

158
Location
Quito is surrounded by mountains on all sides which the Incas used to protect themselves from attackers/invaders.
Friend I made on CouchSurfing who really helped me out on what cities to visit, cheapest ways to get around, different foods to try, taught me the history of Ecuador and took me to her house 2 hours from Quito, very thankful I had her as a friend, would have been so lonely and depressing without her, we became best friends and still keep in touch a year later.
Skate park
Cruz Loma // Rucu Pichincha
4,000 meters above sea level it was cold and rainy af up there my lungs were about to freeze up and fall out my ass tryina get to this volcano
i know i look compossed but thats just me being fabulous cuz Im actually freezing and coming to terms with the fact that im gonna freeze to death on this mountain
Mountain doggies i saw on the way up
So i didnt die, heres me just having come off the mountain til a random car came and said "wtf are you doing standing here? people get robbed and killed on this corner are you fucking crazy? gtfo here!" but i was like wtf i was just standing here having a great time with my rainy ass photoshoot lmao so he actually drove me back into the city
El Panecillo (The Apocalyptic Virgin Statue)
This statue is on top of a huge hill which is considered one of the most dangerous neighborhoods in the city, especially for tourists who wanna be brave and WALK up the hill (which is like a 40 minute hike up LOTS of stairs if you're fit, but probably like 1 hour + if you're not and arent used to the elevation and need to take a break to breathe) cuz you can get robbed and stabbed and no ones there to help you but now they have some safety officers (like 2 or 3) that are there to welcome you, explain to you what your getting yourself into and immediately tell you to take the bus or $3 taxi up to the statue because its really dangerous (which EVERYONE will do, even people driving by will warn you to stop and take a taxi especially if youre white) but if you choose to walk up anyways, they have to write your name on a clipboard so they can keep track of you on your way up incase something happens to you, they do this twice on your way up. The safety officer at the bottom pointed to the safety officer halfway up the mountain at the next "checkpoint" and said "My friend is up there with the reflective vest waiting for your guys to make sure tourists make it up to the statue safely."
I went up and down this hill about 3 or 4 times, nothing bad happened. One or two times I went with my boyfriend and his friend who are both Russian and white as hell which is when people warned us the most to NOT walk up and basically said they were gonna get their white asses killed lmfao
On the way up.
The statue.
From the top of the hill.
La Mitad del Mundo (the equator)
- there's two. Theres the very famous tourist attraction with a huge statue, beautiful view, beautifully decorated where the north south east and west and marked. But this "equator" is not 100% accurate, its not EXACTLY 0 degrees, the REAL equator is a tiny little statue in a small park around the corner from this one)
Homeless dog I saw on the way to the equator, so cute he has a little muppet face
North and South
ya gurl in both hemispheres at the same time at 0 degrees
Cascada de Peguche (Peguche water falls)
On way to the waterfalls. Saw a lot of homeless dogs playing with chickens lol
Lmao look how majestic he looks with his hair blowing in the wind
he looked like a little muppet too
after hours and hours of walking and wrong turns, finally found the waterfalls and almost died climbing up slippery ass rocks with my heavy ass pack to take these pictures so yea
Last edited: