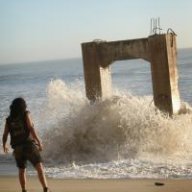 Joined

Jul 15, 2009
Messages

542
Hometown
Website
So I just finished making a tape of my generic folk music. But on side B there is electronic dance music.
Anyway, you can here it here:
Wolf Mode
Also, some older metal stuff of mine..
ACRE:
ACRE on MySpace Music - Free Streaming MP3s, Pictures & Music Downloads
Originally an ambient blackmetal project that turned into a black/death metal project once I actually started recording, but I got too frustrated trying to record drums, so I scrapped that and decided to turn it into a doom metal project. Then I realized that I had no-one to play with and drone metal doesn't take any effort. So I threw together this drone track and a doomy cover of A Silver Mt Zion. I am working on new tracks though.