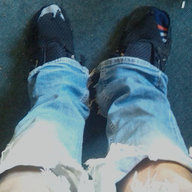 Joined

Jun 26, 2014
Messages

744
Age

46
Location
Website
In accordance to this thread:
https://squattheplanet.com/threads/stupid-things-you-had-the-cops-say-to-you-share.2611/
this is all about what people (meaning members of the general public) said to you or asked you.
Let's share!
I will start with some random experience:
A good friend of mine and me were in a doorway at a very busy street in Bristol, UK. This friend of mine is about 58 years old, gray hair and beard. He was lying in his heavy duty sleeping bag, with his trolley behind him and a few plastic carrier bags. I was sitting next to him on my backpack with a sleeping bag on it.
Saturday night, just a few weeks ago. Cold, windy, rainy ...
A guy in his thirties turned up ... approached us and asked my mate "Um, are you homeless?" ...
And obviously that was not a rhetorical question ...
My mate and me looked at each other and he replied "No, no, we're just camping out for the weekend." ...
And this guy who asked was like "ah okay ...", was about to go away ... then clickidy clackidy clickidy clackidy (you could literally hear him thinking) he came back "um yeah" ....
Gave us a fiver each so it was cool and we obviously appreciated the donation and he was a quite nice guy ... but not the brightest candle on the cake ...