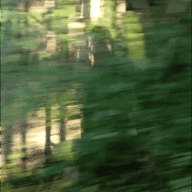 Joined

Sep 18, 2018
Messages

24
Reaction score

59
Location
I've recently swapped out my cheapo baofeng 2-way (i bought for $30 off CL) for an rtl-sdr dongle (i also bought for $30 off CL) that connects to my phone while travelling... i find having an RF device useful primarily for listening to the rail channels and figuring out wtf the train i'm on is stopping, alleviating my anxiety somewhat when this occurs. Sometimes it helps me decide which one to get on, too. As a bonus, its something interesting to listen to in strange towns i've never been to, without hitting wifi or data charges etc.

Its all still a little fresh, and I'm not sure I love the change, as this new setup is a little more fragile and less instant than just grabbing the old drop-proof/water-proof radio i used, but on the upside, it cuts weight and bulk of adapters and charging cables etc, and seems to open up some additional capabilities, albeit non-essential.

On my wishlist, i'd love to grab something with a wider frequency range (hackrf one?), but imagine this would be a little silly to travel with, and is beyond my budget anyway ($30 vs $300). Have any of my fellow tech nerd travellers tried anything similar? Have any pros/cons to share? Or can recommend specific RF devices that are better suited than others for travel?