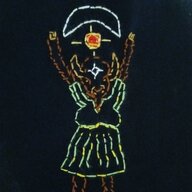 Joined

Nov 1, 2020
Messages

41
Reaction score

41
Location
hi, I'm in the desert, in Las Vegas, Nevada. I like travel but am not the hardiest.

I make zines and help run the Las Vegas Radical Mental Health Collective. I enjoy singing in Sanskrit and Bengali, writing, making outsider art, riding trike. I have some blogs and like to cook veg food. probably my favorite food lately is rice noodles with vegan pesto. I like fat liberation and disability justice. I live in community and have a sweet spouse. I'm an anarchist and like permaculture and ecstatic dance.

I was on some forums long ago for radical mental health, and I like the format. I'm a queer cis lady, mid-40s. I don't drink or use drugs recreationally whatsoever. I don't watch movies or tv shows or hear radio or podcasts, honestly. I need a lot of quiet. I have sensory sensitivities and social differences--see "not the hardiest."

I would like to visit my homeland of California's central coast. New Mexico like ABQ, Carrizozo, and the Tularosa Basin. I'd like to see the Pacific Northwest again. I'd like to go to the Bay Area with my spouse so he can see his kids and mom. I'd like to visit Sacramento. I'd like to see Montana--I've never been there. Idaho again.

I'd like to see Florida. I have never been anywhere tropical. I'm fully intrigued to learn about the plantlife there. feels hella far, tho. I'd like to go to Mexico. yeah, mostly Baja, but anywhere.

probably I can offer cooking, zines. also, I would be happy to penpal with some anarchists or travelers or would-be travelers like me who are a bit stuck in place due to disabilities or whatever circumstances.

nice to meet you. peace.