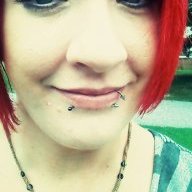 Joined

Jan 25, 2010
Messages

512
Age

42
Well...I have a new baby! Lol Just when I thought I would never have another child, this little guy fell into my lap.
I walked outside my home this morning and there he was. Right on my porch. He hoped over to me and onto my shoe and just sat there. I tried to walk away and gently shoo him off, but he tucked himself on the side of my leg and just sat there. Who could resist that, right? Well I've named him Peek, because of the way he kept peeking around my leg at me. I've been reading a bunch about raising a fledgling sparrow online (thanks DAN!) and I think I can get him through until he can fly. Wish me good luck. I have to feed Peek every 30 mins to an hour. Whew. This is harder than my REAL kids were lol
Winter
P.S. If any of you have ever done this, or have any tips, please feel free to share!
And just to let all of you know, I observed him for a few hours. Waiting to see if a mother would return for him. She never did