I'm in Mongolia right now traveling with a horseback caravan of people who just met on the internet. Here's the continuing story of my lil' Mongolian pony: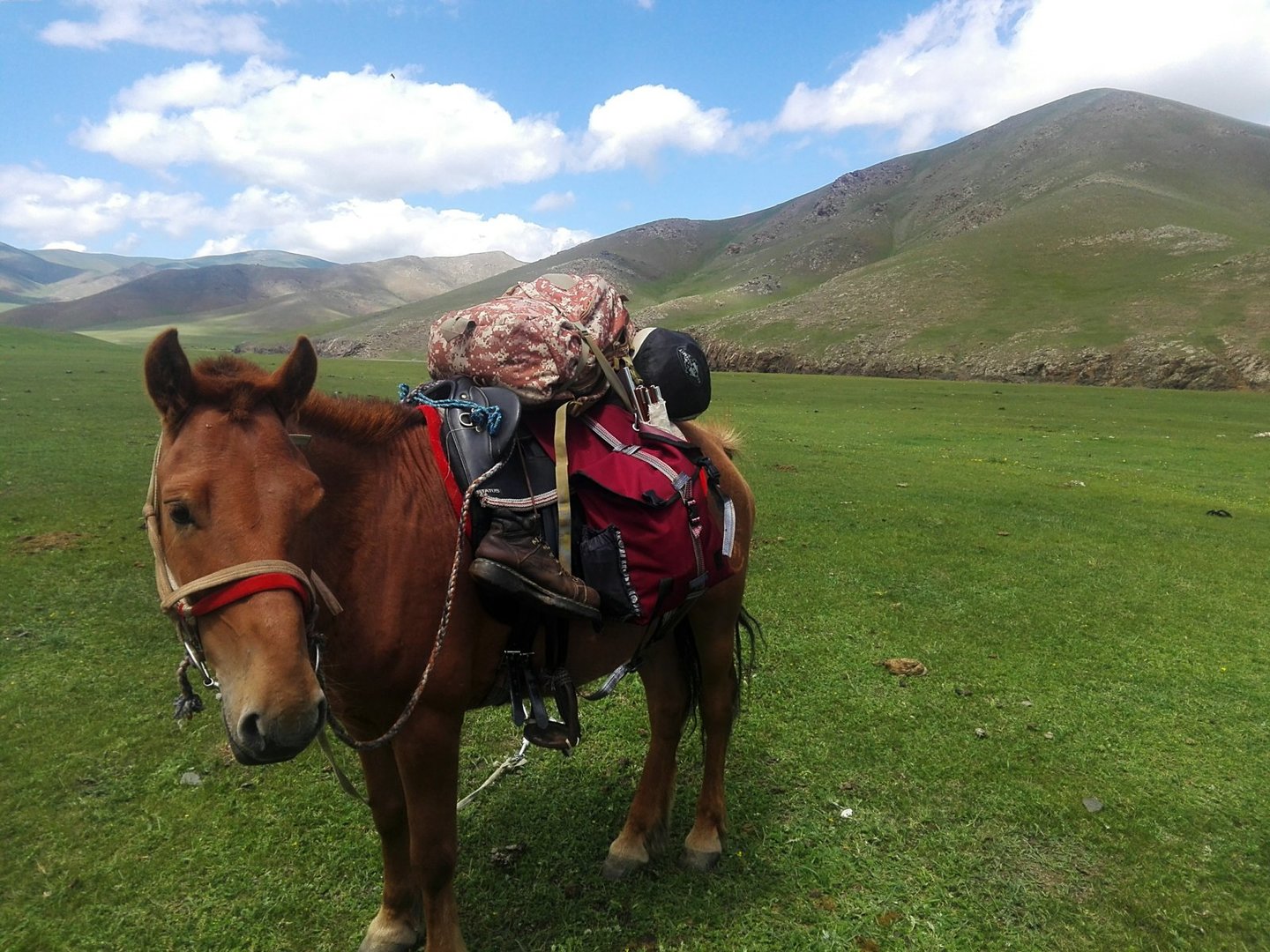 Polvo being fat and healthy, weeks into the caravan.
​
When I first saw this guy, he was tied up to the halter of a big, strong, healthy-looking chestnut horse with a full mane (all our horses so far had theirs shaved for the summer, kind of a visual bummer). I wanted the flashy horse, but we still had bigger taller people without riding horses so I gave over regretfully.
I took a quick look at the other horse -- a drab, shaggy dust-brown gelding. He was all ribs and hips and spine, with huge pits over his eyes, but while the other horse was stuffing his face to the exclusion of all else, this one was looking at me.
The horse was watching me closely, but didn't flinch or back away. He let me touch his head. He rubbed his forehead on my hand. I took the rope off his neck and stuck his head in a halter, and he just kept watching me calmly and allowing it. I leaned onto his back and he sniffed at me. I lead him away, awkwardly scrambled onto his bony back and walked him around a bit.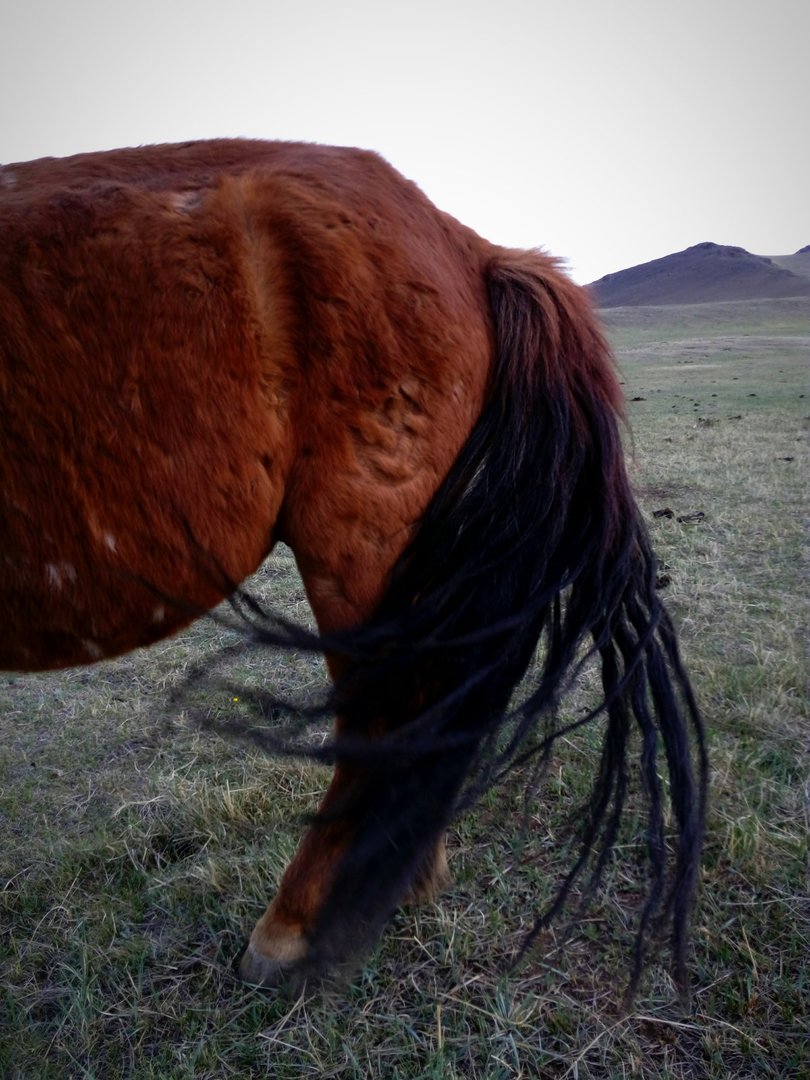 Polvo's winter hair and brand
​
He seemed like exactly what I was looking for... a nice, easy, likeable horse for someone who doesn't know how to ride horses. Enough grain and grass oughta fix the skinny part. I'd daydreamed of some beautiful gray or silver horse, but a mud colored pony suited me, too. I got his bridle on, saddled him without much resistance, rode him up over a hill and out of sight.
The motto of this whole trip had been, thus far, for better or worse, "Go big or go home." My motto could had been "Fake it till you make it". Two minutes later he was galloping out of control. "Out of control" meaning I had only the vaguest idea of how to control him, and it didn't work. He crested the hill, started to barrel down, and launched me off ahead of him right before kicking the whole saddle off.
By the time I dragged my saddle back to camp, the horse had been recaptured. I was swollen from neck to ribs to elbow and couldn't raise my right arm. I told the guys I wanted the horse, staked him out with our other horses, then collapsed in my sleeping bag and suffered.
The next day I discarded all the names I wanted to call my imaginary silver horse and decided to call him Polvo.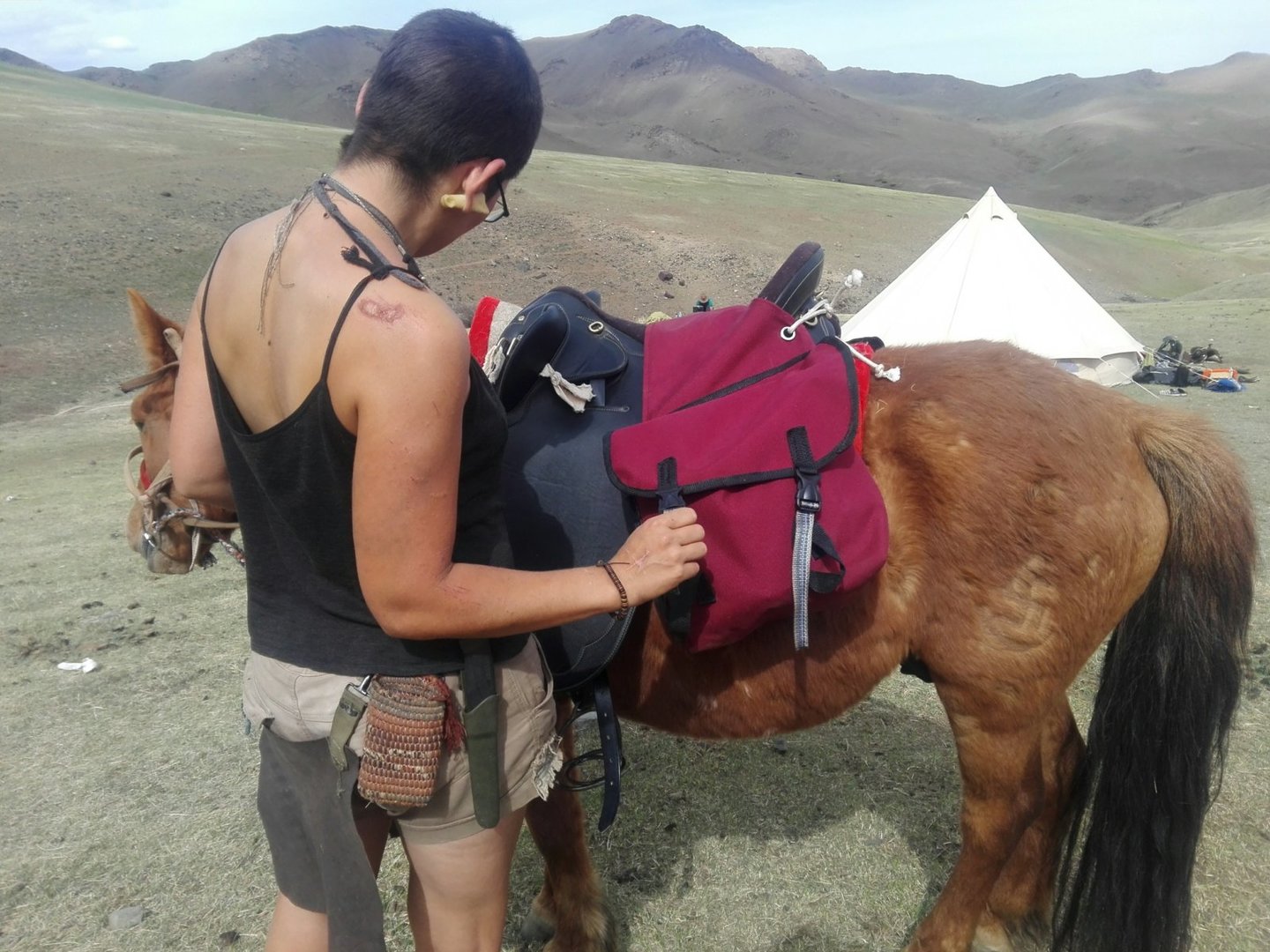 First time carrying my gear, no big deal.
​
After a few days, I could move enough to saddle him if he stayed put and I could do it one handed. This did not happen often, and he eventually got fed up with my fumbling and stopped cooperating. I stuffed him with grain, gave him parasite meds, but couldn't do much more then walk him like a dog.
When the caravan started moving, I'd ride him, but we'd not spent much time together. He'd ignore me and just follow the other horses. I tried hard to get over it, but the fall left me pretty scared. I'd get him to trot, then go stiff and cling to the saddle.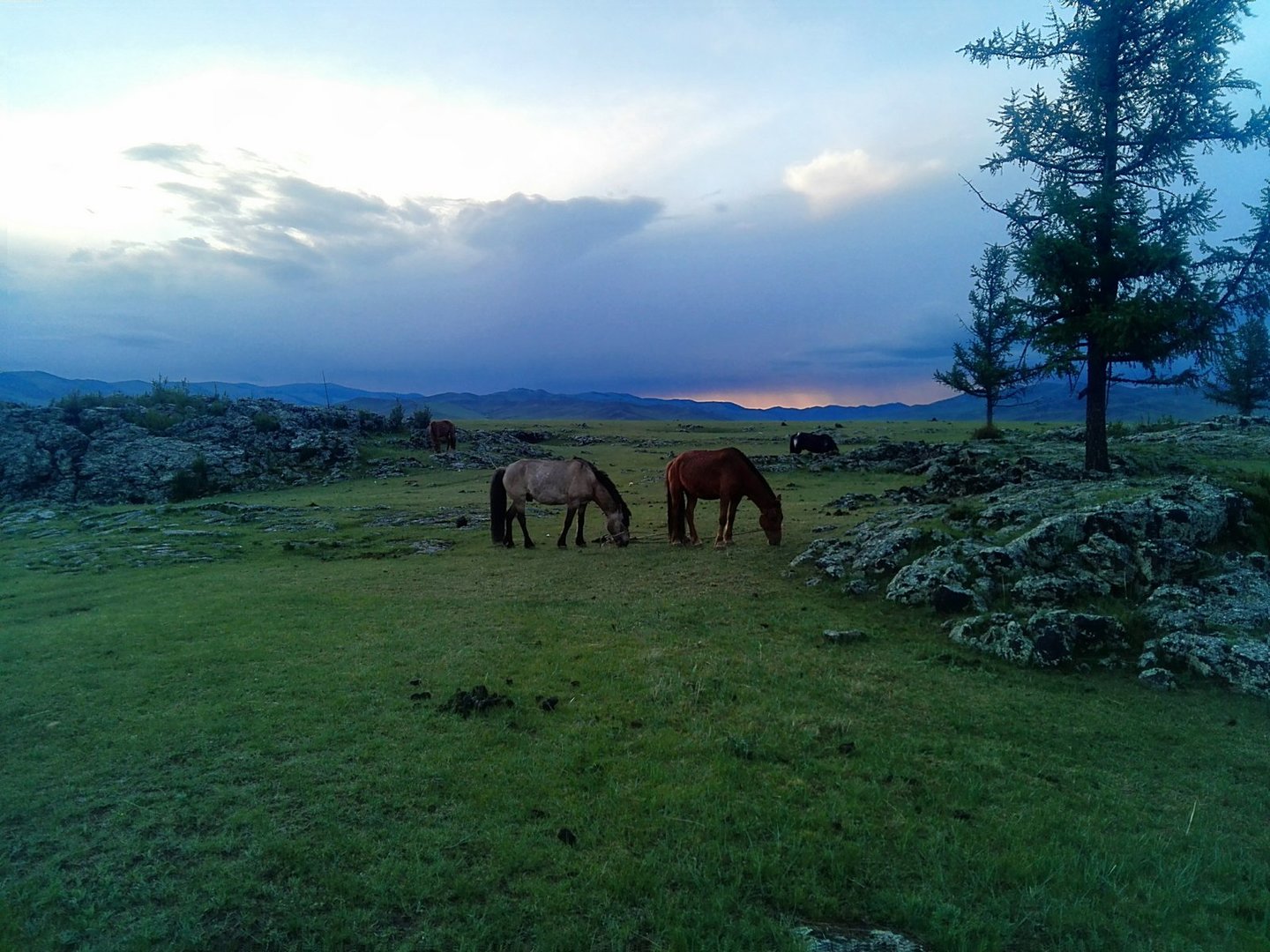 Polvo and Bo at seed camp.
​
I was very grateful for him. His problems were so minor. After a few days of difficulty he settled back into accepting the saddle and only giving me trouble with the bit. He never ran away, he never kicked or bit. He took his saddle bags and a bundle across his back on the first try. Nothing seemed to spook or surprise him. He'd be calm after days without being ridden. Sometimes I'd rage and curse and yell when he'd stubbornly refuse to go anywhere without another horse to follow... but of all our horses, I think he is the only one I could handle one-handed and in pain all day.
Soon after we left seed camp, I was feeling restless, cranky, and maybe functional enough to leave the caravan for a bit. To carry enough food for the long trip ahead without being an awful bastard, I'd have to walk and lead Polvo with my gear.
After a big storm and a big argument, I loaded up my horse, gave a "Hey seeya bye", and lead him off, hoping the long walk would wear me out, help me be more patient with my friends and my horse. As soon as Polvo realized what was going on, he started to try and turn back, and call to the other horses, but I pulled him along until they were out of sight.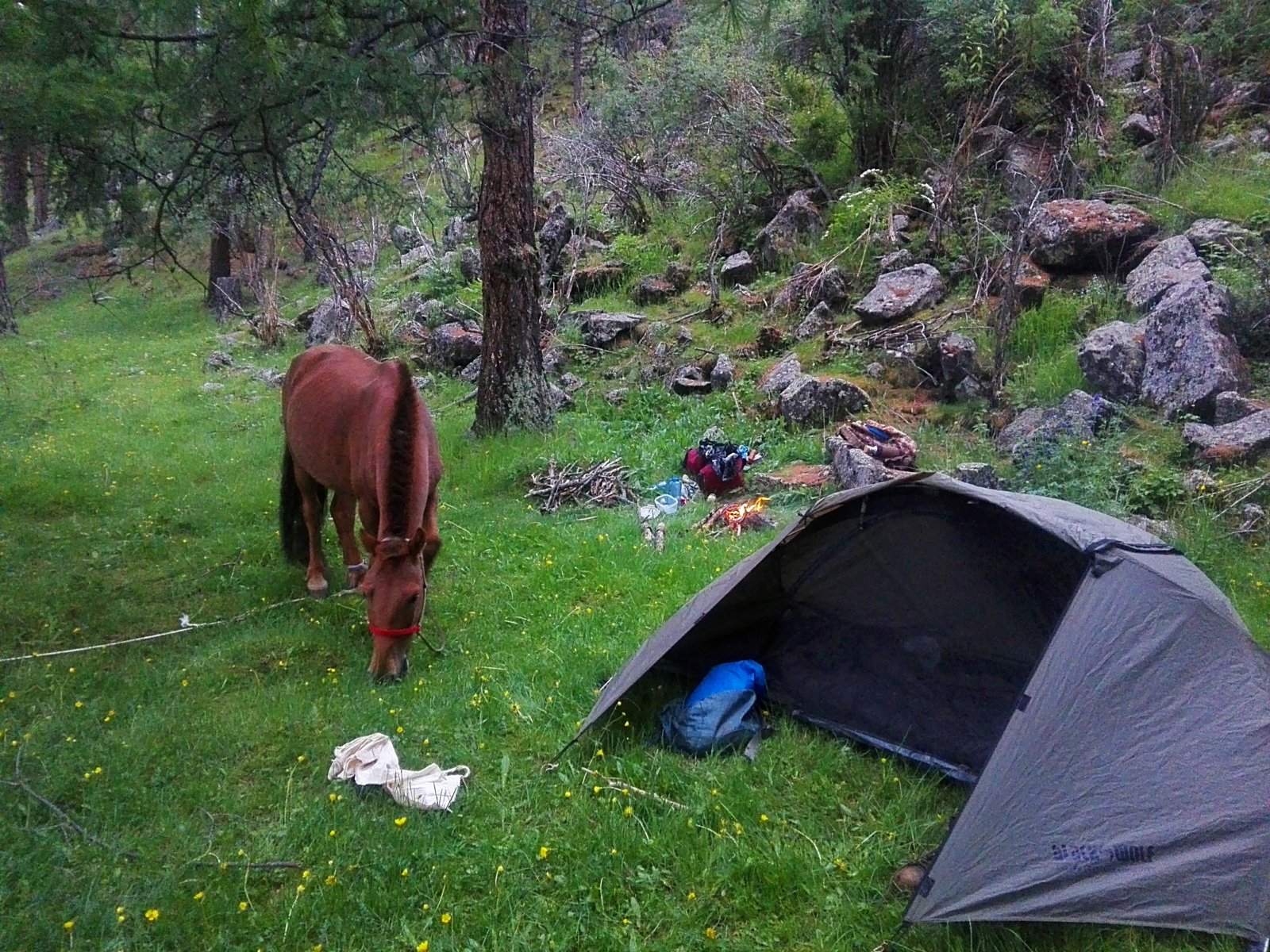 The first night with just my small tent, fire, and my little horsie munching grass and scratching his butt on trees.
​
From that point on, I didn't have the heart to be hard on him. I had him figured for a thick-skinned, stubborn horse, too used to harsh Mongolian treatment to pay any attention to me being nice... but the next morning, I let it take as long as it needed to to get his bit in without tying his face to a tree, hobbling him and wrestling the thing onto him. I started gently touching his mouth whenever he was enjoying a good head-scratch. After three days he stopped fighting me every morning.
I kept him eating tall, lush grass whenever we where not moving. I'd get up twice a night and move him so he always had the best. He'd rush up towards me every time I came out of my tent. He'd wake me up at night if I was slow about it. He lost the last of his winter hair, and was plump and glossy under it. His back rounded out and the pits over his eyes filled in. After a week, he was either relaxed or exhausted enough to lay down and sleep, something he previously would never do without the security of a herd.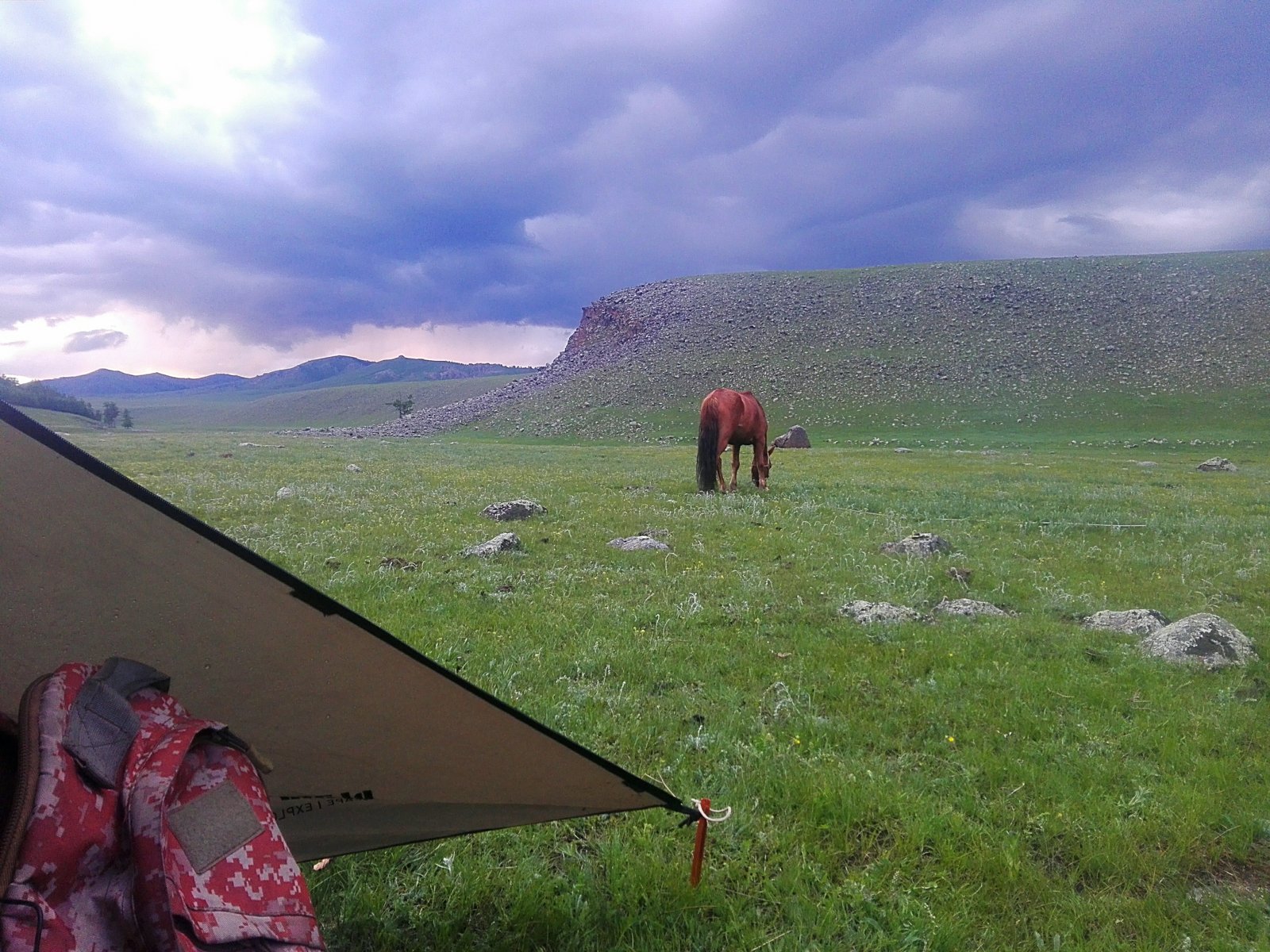 All the best grazing for Polvo
​
As long as I lead him, he seemed pretty happy for a lonely horse. He'd come up and nuzzle my hand, follow me with no hesitation, crash through thick brush and marsh, climb over rocks and through deep water. We'd swat the same flies, dip our heads into streams side by side... He'd eat grass while I filled my pockets with wild herbs and greens. One morning, while I was picking nettles to boil for myself, Polvo came over in his hobble, watched intently, then grabbed up a mouthful before I could stop him. Fortunately the stings seemed to fade pretty quick.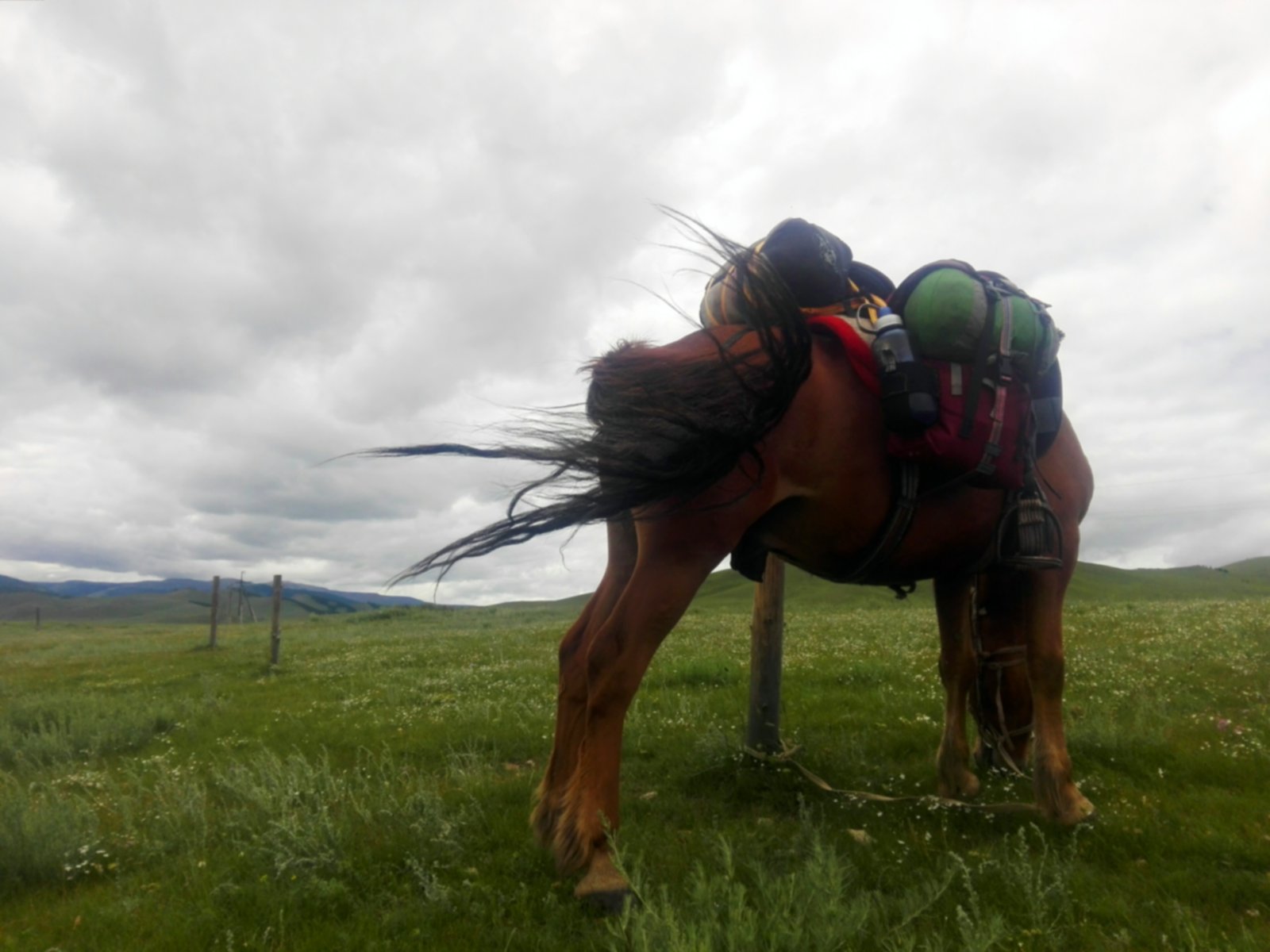 Riding, once my supplies had been lightened, was hit or miss, sometimes he's stumble and meander, trip over rocks in plain sight, try to follow herds of horses, yaks, even sheep and goats. Sometimes he'd go exactly where I wanted with a eager step, but I never rode him faster then a hesitant trot.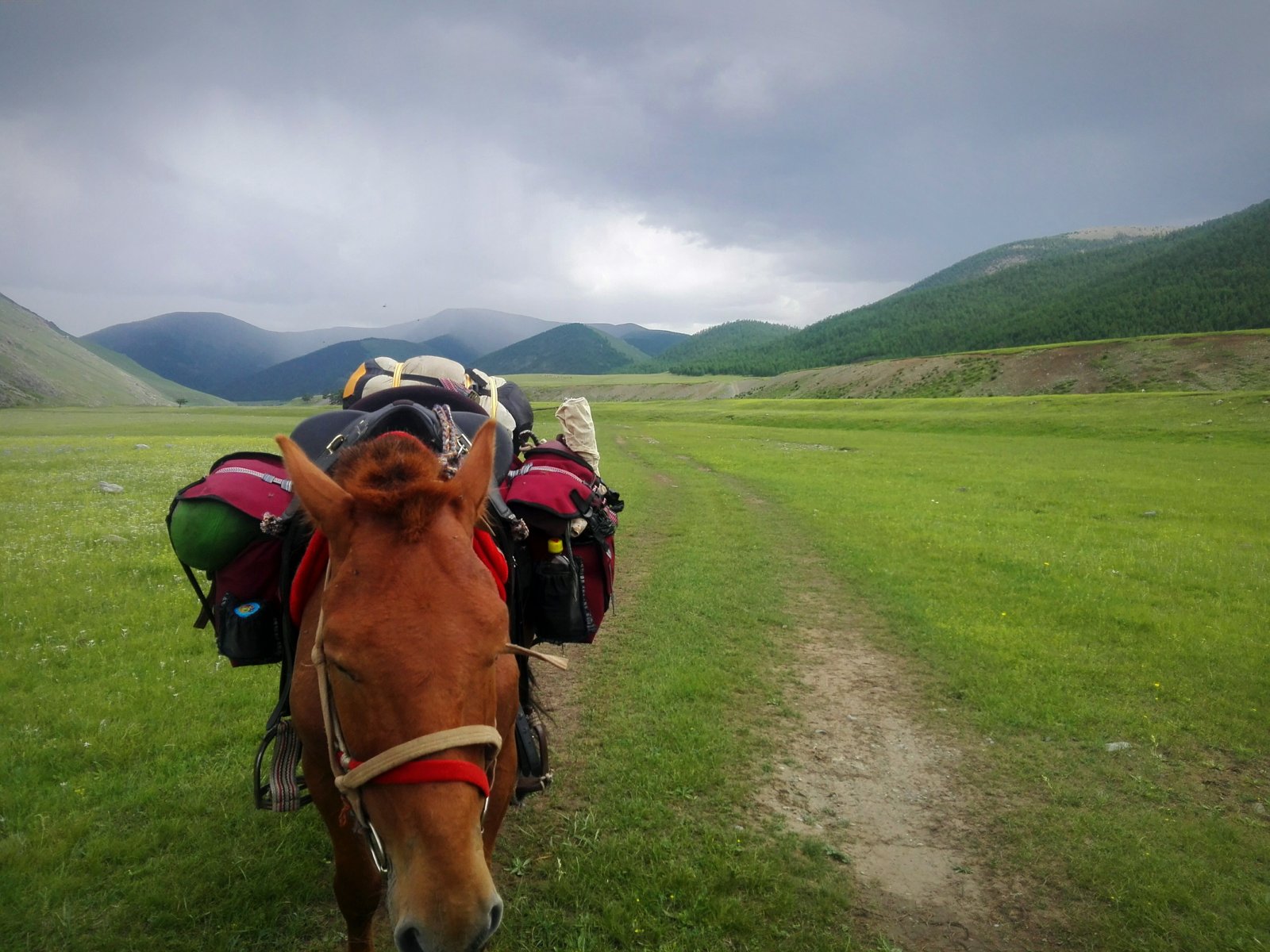 Moments before being pummeled by hailstones....
​
After over two weeks alone, I'd run out of food and cash. With nowhere safe to leave him all day, I walked him right into Tsetserleg. Tsetserleg is a big town, a real town. I took him through paved roundabouts, apartment complexes, construction zones, gas station parking lots, and finally downtown, where I tied him up in front of a guesthouse and went to the bank. Other then trying to kick a lady who patted his butt, he did great, but I was too nervous to take even one hand off his lead for an awesome photo op, so no pics exist. I got my groceries and we left again without incident.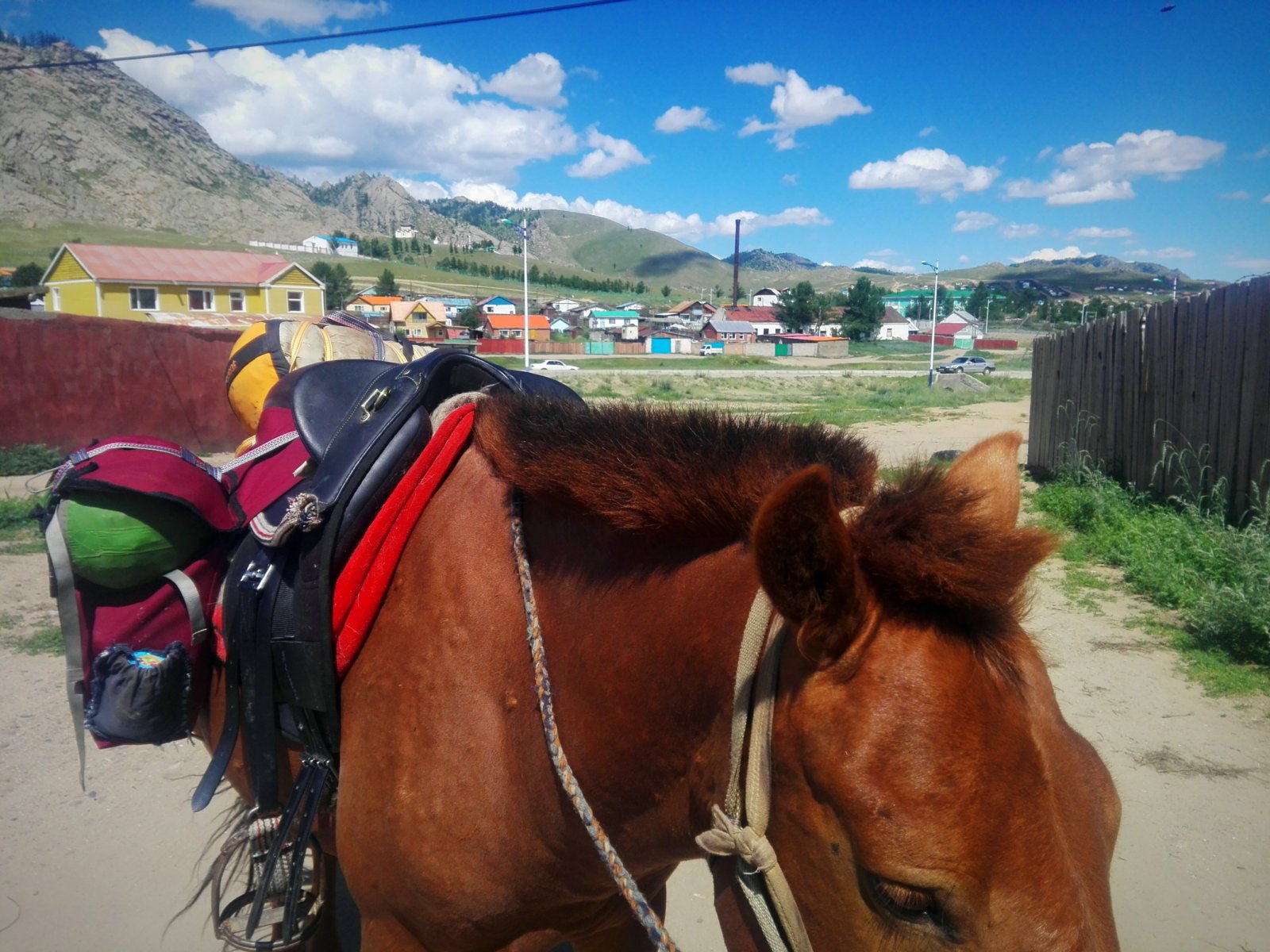 A long day of being a shopping cart
​
Two days later, after 18 days, over 200km, lots of rain days and almost entirely me walking on my own feet, we rejoined the caravan. I brought him back, healthy and handsome and me proud enough to be his mama every time he got a compliment.