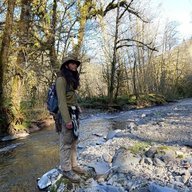 Joined

Dec 21, 2018
Messages

55
Location
Been working in Montana for the winter so I could get some new gear.
Finally the time came to go out gear hunting!
We all know how rad it is to slip into a brand new sleeping bag or sling on a shiny new pack, but it feels even better when we get a good deal, right?
In a pawn shop in Hamilton MT we went looking for a pack for me. Instead, after digging (literally) through old frameless packs and used sleeping bags, we stumbled upon a 0 degree Marmot sleeping bag. The fluff seemed pretty much brand new. It was an extra wide and extra tall so there was plenty of room for my 6 foot ass and my little dog! It wasn't even bright yellow! It was burnt orange and dark red. Not the worst colors for being incognito.
Best of all though, it was 29 bucks! Being a wheeler and dealer I got the shopkeep down to 25 bucks. Best investment I had made to-date...
Until, a couple weeks later..
Still I had no pack. My old pack was an old, beaten down, 11 year old 50L riddled with broken clips, busted seems, broken zippers and tattered straps. It did me well, but it deserved retirement.
Off we set again, the find a suitable pack. With previous luck at a pawn shop we decided this time to hit up some pawn shops in Missoula. The first one we went to, (on Broadway St next to the bagel place) was PACK HEAVEN. These guys had everything.. Downstairs there's a huge pile of $5-$10 frame packs. Upstairs there's probably 30+ high-dollar, quality packs. Of course, I wasn't the first to discover this place, there were like 15 homebums inside trying to get better deals on power tools and vacuum cleaners than what was marked. (Presumably to pedal them to a pawn shop down the street? Who knows.. Maybe to go trade for some dope lol)
After precarious searching, there it was, tacked inconspicuously to a load bearing pillar on the main floor. An all black pack that said, "Mystery Ranch; The Works $199". At first I thought this price relatively steep. Although, I have been working my ass off to get myself some nice things for this trip..
After looking around for some time longer I brought the Mystery Ranch pack and a Motorola Mag One BPR40 transceiver (marked $29) to the counter and made my $220 offer. Which the clerk accepted with a smirk.
Did I get ripped off?
Upon returning to the cabin, we did some research on the radio. It spans at preset frequencies between 150 and 175. Train companies use frequencies 159-162 on the VHf spectrum. Perhaps I got lucky, if it doesn't work I can always pawn it later on..
The back on the other hand...
On the mystery Ranch website we could not find the pack I have, but the modern versions, (which are literally the same thing but not in black) ARE $600..
I'm a happy camper
Thanks for reading, I recommend pawn shops, in closing. Safe Travels!
Edit:
https://www.mysteryranch.com/marshall-pack
This is the same exact pack but mine is black. It's like 75+ liters and has straps on the side perfect for uku\mando