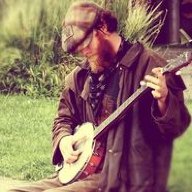 Joined

May 3, 2008
Messages

926
Location
Dameon and Zaphod's arguments against voting are logical and add up philosophically for the most part, but I have a hard time seeing how NOT voting is an ACTION or way of "not supporting the system." Not voting is just the LACK of an action. Like Zaphod said, arguing over whether to vote or not vote is a first-world, frivolous problem. So...... not voting is direct inaction? Drop-out-ism serves no purpose.

If you listen to Lupe Fiasco, you don't vote. If you listen to Chance the Rapper, you go vote.
It's a way of not supporting the system because if nobody participates, then the system collapses, and the fewer people vote, the more blatantly visible the corruption of the system becomes. It's not effective by itself; you have to be vocal about why you don't participate, and for real societal change it has to be paired with direct action. It's not a first-world problem, it applies anywhere that the democracy behind a vote has become corrupted. It applies especially in the US because our military technology has reached the point where I don't believe a citizen uprising is possible; the only effective means to bring down the government that I believe in is non-participation. If everybody ignores the dictator's commands, suddenly it's just a person with no authority. If there's a vote, and nobody votes, the winner rules with the consent of nobody. As long as you vote, the winner rules with your consent, even if it's not the person you voted for. You've agreed to play by their rules (even if they change the rules to suit them, and cheat), so you're not allowed to complain when they win, over and over, because they gave you a vote, didn't they?
But in the end, after all the manipulation and cheating and rule changes...did they actually give you a vote, or the illusion of a vote?