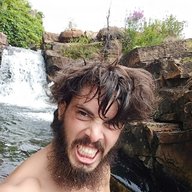 Joined

Oct 3, 2018
Messages

119
Location
Hello my fellow whatever-we-all-are !
I started my bike tour Augost 21st in NYC, Went north to Canada (upstate NY to Vermont, then crossed at Albourgh, VT) and to Montreal.
From Montreal I went up north to Val d'or and now south-west to Vancouver.
I carry my tent and usually wild camp or couch surfing when available.
I dumpster dived and squatted some abandan places I found along the way.
I have limited experience squatting a place for about a month in Sydney, there I started my dumpster diving philosophy (basically, open your eyes and look around).
I hitchhiked alot in Australia and Europe, didn't like it in the U.S and I hope my next thing in Canada, once I get to Vancouver, will be freight hopping just for the sport, and then back to my bike.
If there are any Canadians here that I might meet along the way, thumbs up! Other then that, I find it kinda funny that nowadays punk and anarchist culture had find its way to the internet with rules, asmins and guidelines.
Maybe I will be able to get the CCG this way
When I talked to the punks in St. Catherine (Montreal) they pretty much told me to fuck off
)
Pic 1: This was an abandan Indian reserve or whatever. Maybe in the punk dictionary it would be referred as Jungle. Anyway, not a pleasent night due to stress that I will be found, but eventually nothing happened.
Pic 2: Dumpsters are not only good to find stuff, but also to hide your belongings. When getting to a nice town, it's not comfortable to explore it with all of your luggage, so I found an almost empty garbage bin (wooden, I think only closed bags because it really was clean) and hid my stuff. I camped there and took everything out next morning, was perfect. On the island on the Ottowa river, last night in Quebec (to Ontario and beyond!).
Pic 3: Adelaide, South Australia. I forgot about bus schedule not going all night long and got stuck. After spending some time with the night creatures (a funny homeless i walked with and got beers for, BTW the next morning he got arrested) I found in an alley three chairs and made them my bed. In the morning I was asked by a truck driver "not to shoot up", so I immediately took off, terrified by him thinking I was a junkie.
Pic 4: hitchhiking with police - check.
*They only took me out of the city to a big bus terminal, and were very ammused by me. We had a nice chat, and I think they enjoyed the fact they were "busy" with me and couldn't respond to bs calls on the radio
Last edited: