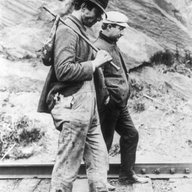 Joined

Jan 21, 2017
Messages

91
Location
Hello All,

I've been hoboing around Florida all winter with no problems but I just got a citation for Alcohol in the beach in Panama City. I read the beach rules and they said nothing about alcohol but apparently they have a alcohol ban for the month of March which wasn't posted anywhere and I got no warning. I was just laying out not partying or drinking and I had my stuff out of my pack drying out. I had two cans of unopened beer exposed and two cops rolled up on ATVs and cited me. They said I just call the number and at most it would be $25 - $35 fine. All lies.
I'm facing either $280, 28hrs community service, or 28hrs jail time in their misdemeanor diversion program. Plus, id have to stick around here for a couple weeks before they get the paperwork. I have no other criminal history.
So, paying the fine is out the question. Should I jump the hoops and do what I have to to keep my record clean or bounce and not look back. Obviously, I'll get a warrant, but not sure they will ever come get me for that.
Thanks for any input.