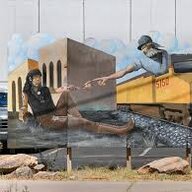 Make America Freight Again
Staff member
Moderator
Joined

Dec 12, 2014
Messages

2,337
Reaction score

7,417
Age

33
Homebase
Website
@WyldLyfe
ok. I would seriously like to know how you, a scientist with a doctorate in climate science, are going to explain to your colleagues your stance on the climate change issue. I feel they may disagree with you.
There is no fucking possible way that the Australian government is starting all of these fires as a way to move people into 'smart cities'. That is literal suicide. That is one of the most crackpot theories I've ever heard, man.
Also, by denying climate change, you are siding with the asshole of the PM yall have down there, when he holds up a piece of coal and laughs at the other politicians that want to do something about it.