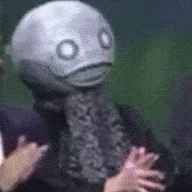 Joined

Sep 25, 2019
Messages

159
Location
I am Teddy.
I am a traveler via walking and
hitchhiking
.
I like all sorts of music, movies, games, books, art, and people.
I am not a panda.
I am not an asshole.
I am not smart, sexy, cool, or tough.
I love meeting people and experiencing new things.
I hate jerks, phonies, mayonnaise, yappy dogs, Necco Wafers, my ex's ex, people telling me I need a new wallet, american and bleu cheeses, my sciatic nerve when it gets pinched, religious and political intolerance, and humidity.
Some of my favorite artists are Tom Waits, Takashi Miike, John Goodman, Irving Penn, Carlton Mellick III and Suda 51.
I've hitched across the US a few times. I'm preparing to hit the road again for a longer, less-planned out journey that will hopefully take me around the world. I'm excited to see places I've never seen in America, but stoked to finally travel internationally. I have open invites in
Canada
(friend), Japan (friend) and Germany (friend's dad). Hope to travel all over
Asia
,
Europe
, and
Africa
.
Talk to me about stuff!