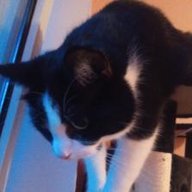 Joined

Jan 21, 2019
Messages

1
Location
Hello! or something like that..

Name's West, 17 yo' Male.
Im living in Germany (Lower Saxony)
Im pretty bored, of this place and would like to leave
as soon as possible, over the past months i did some research.
about Trainhopping, Hitchiking, the Vagabond lifestyle.

Hobbies that could fit here
Camping, hunting. MAKING BIG ASS FIRES!

First Train hop!
When I did my first train hop all went well, but the engine decoupled itself and I had to walk about 20 miles.

Second Train hop!
Got caught cause i had to sneez. :/

I don't know what else i could talk about..

Consider leaving this Spring, i don't have a specific country in mind,
Would love to have a Buddy with me.

If you got any Question go for it.

Hope to find some new Friends.
Last edited: