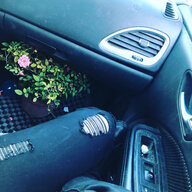 Joined

Jan 28, 2021
Messages

2
Reaction score

1
Homebase
Hey there,
Nice to be see and be seen
My traveling name has been Rain for the past few years, so I guess that's what you can call me. Kitti and Kiwi work too- I answer to a variety of names- since I've been a variety of people in different places.
a bit about my travels- You can say I'm an Old Noob when it comes to traveling. I've been on the road since I was 15, flying here, driving there, hiking to remote places to 'get away'. Usually funded and destination oriented. And always driven there in my compact car that I call "The Dirt-Star".... But recently I'm coming to admit that the traveling might just be a symptom of a larger lifestyle change coming my way. I just want to connect differently with the world and the people in it. 10 years traveling on and off under my belt and I'm finally becoming a real person it feels like.
About me as like... a person? Im a little weird, a bit abstract. I like my gardens and dogs more than I like people. But people can be cool too
sometimes they have cool gardens and dogs you know? Lol I'm always up for a good conversation about mutual interests. I try not to open my mouth about things I don't know about and I make it a practice of being understanding and kind. But I'll still F you in the A if you mess with me, my family, or my stuff. I can be possessive and even a bit pissy like that. Respect me and mine- I respect you and yours. idk what more to say about me really- im best met in person lol
but yeah im really hecking new to this community and i hope to find likeminded friends and adventurers
thabks for taking the time to read me out ^_^