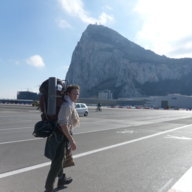 Joined

Aug 24, 2015
Messages

213
Location
Website
I passed through a few years back just to spend one night, but it seemed like a really cool place to hang out for a summer. Does anyone have more info about the place?
For those who don't know, Sardinia has the best beaches anywhere in Europe and since the '60s or '70s one beach in the far north has been occupied by dreamers and free thinkers. There are about a dozen caves nearby where people sleep. That's all I know.
I didn't speak any French or Italian (or Sardinian) when I was there so I couldn't communicate at all, but as soon as I showed up I was given a glass of wine, a bowl of hobo soup, and after dinner I was given a cave all to myself. I was there in late July and it wasn't very lively so I'm not even sure people stick around over the winter. The average age was probably 40, and there weren't more than a dozen people there. I have no idea what daily life is like. However one guy who spoke a few words of English told me "Come August. More people. Naked girls. We bake pizza."
Here's the location:
https://goo.gl/maps/gNNuRJ7217D2
I'll see if I can dig up any photos I took.