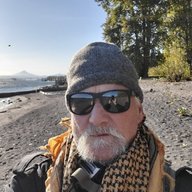 Joined

Nov 30, 2019
Messages

56
Reaction score

110
Location
I have worn those M65 field jackets for many years and like them. By now the way they fit and pocket locations are intuitive. Every fall here in the Pacific Northwest, i get out the m65 and there's that comfotable feel, but I run into the jackets fatal thaw right away. It is nothing more than a cotton shell, and cotton is the main ingredient in a recipe for hyperthermia in a cold, wet environment. I put up with it year after year, use scotchgauard, etc. Can't afford a civilian goretext jacket at REI, those can be above 200.
This year i found this m65 style jacket made for the Austrian army made of good German goretex, for 63.00. My last army cotton m65 was 75.00. Ordered it and have been wearing it since September. It is just like the us m65 but made better. Deeper, bigger pockets, better hood, and coolest are 2 zipper inside pockets, great improvements. I have not worn it in an intense downpour as here it is mostly annoying drizzle, but it does keep me dry. It is comfortable. Has an awesome eagle patch on the left arm.
Only con is, like so much in the surplus world there can be flaws and the stuff is considered. "Seconds". The flaw on this is the zipper is on the opposite side, as women's clothing does, and its a pain in the ass in lowlight to get it zipped. Women will find this common. But it is a minor flaw considering the quality and price. And the mens size large fits as normal, its not a jacket made for a woman, that I can tell.

I tried to copy paste the ebay link but it produced a hugh jumple of characters, so just search for Genuine Austrian army M65 GoreTex military olive OD Parka waterproof NEW. There are used ones for lower cost.
Last edited: