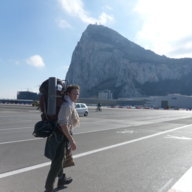 Joined

Aug 24, 2015
Messages

214
Location
Website
I don't know if this tip is of any use to Americans, but here in the UK, the McDonald's loyalty card program seems designed for exploitation.
Instead of a stamp or hole punch like most cafes, you fill out McDonald's loyalty cards by peeling the sticker off each cup you buy. You only need 6 for a free coffee.
I think this is of particular interest to hitchhikers, because we do a lot of walking along highways, where discarded coffee cups probably make up 20% of roadside rubbish. Keep an eye out for the distinctive black McDonald's cups and you're sure to collect a few stickers during a full day's hitchhiking.
Then stop by Micky D's in the morning while people are guzzling coffee. I always cruise for abandoned cups on tables before employees clear them up. Then I do a bit of rummaging in the trash (it's also worth checking all bins in the vicinity, at bus stops, etc.) Finally if I still need more, I just go around the tables and ask people if I can have their sticker.
You can fill up a couple cards per day no problem. And with winter settling in, a couple hot drinks make a big difference when you're clocking long hours by the roadside.