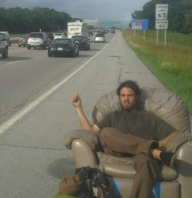 I'm a d-bag and got banned.
Banned
Joined

Dec 15, 2013
Messages

438
Age

30
Location
Jerry Daniels was 16 years old, and squatting in a Florida meth house with his mother when Detective David White was shot by another squatter during a raid. The shooter was killed by another officer, but Jerry Daniels went to prison for 4 years for being in that house. Daniels sentence was the lightest: 3 other squatters arrested during the raid, including Daniel's mother received 30 years to life
http://www.odmp.org/officer/21187-detective-david-adam-white
Now Daniels must serve 6 more years for consumption of marijuana, his second probation violation.
http://www.news4jax.com/news/florid...eath-gets-probation-revoked-6-years-in-prison
Authorities charged four people with murder in slaying of David White, though none of those arrested pulled the trigger.
A state law holds someone responsible for the death of another while involved in a felony, even if they didn't directly cause the death. The shooter's girlfriend claimed he had announced he would kill cops before going to prison, and I assume this was used against them all.
http://jacksonville.com/news/crime/...lony-murder-fatal-shooting-clay-county-deputy
Seems to me a cop died and they can't charge the shooter, they want blood, so they take out their revenge on homeless people who were occupying this meth house.
Last edited: