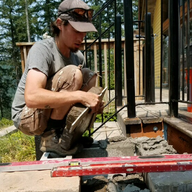 Joined

Dec 17, 2017
Messages

42
Location
I've heard a few stories over the years about people being given the ultimatum (by the cops) of go to a shelter or go to jail.

The only time it happened to me was about 5 years ago in San Louis Obispo on Christmas Eve. We were sleeping under an awning of a closed construction outfit and were awakened by the good old sound of radios followed by flashlights. After running our names and all that jazz they told us we were trespassing and they could either haul us in or take us to an emergency shelter that was open due to the unusually cold weather. Obviously we opted for the shelter and it ended up being way better than we had imagined. The shelter broke both the "no dogs" policy and let my unwed parter and I sleep in an unused office room, whereas male and females are usually split up into separate sleeping quarters. To top it all off one of the guys who worked there gave us a ride back to our friends van a block away from where the cops picked us up and kicked us down some bubble hash.

I wouldn't call it a Christmas miracle but it beat the hell outta SLO county jail.

Anyone else?