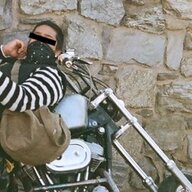 Joined

Jun 22, 2021
Messages

9
Reaction score

3
Location
heyhey, I'm buddy!

very bad with intros, I guess I'd best describe myself as a biker. I love working on and riding motorcycles. I currently have an '03 harley sportster that I'm tryna make a frisco chopper out of. love hiking, stealth camping, and trains as well. also pretty deep into eastern spiritualism. hmmm. I listen to a lot of hardcore and stoner metal too.

I'm from NYC+NJ. been fascinated with nomadic lifestyles since I was kid. have been pushed to the precipice of fucking off and hitting the road many, many times in my life but ultimately things "got better" and here I am sorta just making shit work. covid was a blessing in disguise as far as rent in NYC went, so I'm pretty much set til my lease is up... but after this I doubt I'll be able to afford living here anymore. I expect costs to skyrocket again as things return to "normal."

so the plan is to hit the road with what I have: a bike, a hiking pack, and some barebones camping supplies. as well as whatever I can scrounge up in the next year or so: mainly firsthand experience, information, and like-minded acquaintances.

would love to tap in with any motorcycle rubbertrampers out there.

thanks, and I hope to learn a lot lurking around here! as well as teach what little I can. hare krishna!