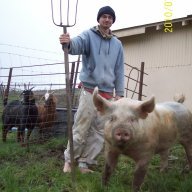 Joined

Apr 12, 2013
Messages

2
Age

35
Location
Just joined the site and thought I'd show a stove idea I used back in 09. While staying a winter at the Slabs, I noticed there was a surplus of old coffee cans lying around. Started cooking on a hobo stove every night. I wanted to take one with but they seemed to much of a pain to pack.
It fits into the large BDU pocket of the long sleeve fatigue. Those are the four sections of the stove. And a kitty cat. Cat not required for the stove to function, but I hear they taste good. Each section has a tab cut on the top and the bottom so the pieces slide together. I then used a piece of a hanger that I bent into a small right angle to slide into holes that I punched through both tabs once it was together(just used a hammer and a nail). Without the pieces of hanger, my pot of water would flatten the stove and put out my fire
. So. Hope everyone gets the idea of how it was made. You can see the tabs on the top and bottom some. This little sucker didn't work too bad. Lasted me a year I think before the metal started to go. Don't know if this is an original idea, but I hope it helps someone out there.