Joined

Jun 13, 2012
Messages

151
Location
Website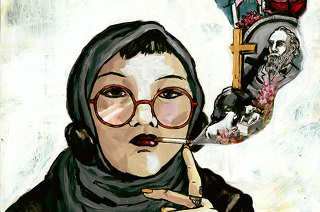 Picture from:
http://cargocollective.com/gretaaalborg/BAD-WOMAN-PROJECT
It is with a heavy heart that we share that Ara Jo, who drew some of the pages for the 2013 Organizer perished in the art collective fire at the Ghost Ship on Friday.
I met Ara at the Paco Dog Collar shop in 2012. I was handing out Slingshots. I had no idea if she worked there or was just hanging out or what. When she saw the Slingshot, she got super excited and mentioned she'd
always wanted to draw pages for the Organizer, and it so happened there were some pages left, so she was able to join in. She was so flattered and tickled to have her work in Slingshot, it helped me feel excited about the project.
Ara was a key figure at The Rock, Paper, Scissors Collective and a prolific a zinster. Her bubbly enthusiasm about all things creative was contagious. It was great to have her at creative jam sessions. Her well-wrought
line-art defiantly challenged social norms.
Please hold space for Ara's memory right now.
Now is the time to make art like our lives depend on it. For Ara's memory, and for all the great artists we've just lost.