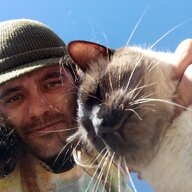 Joined

Mar 22, 2017
Messages

433
Reaction score

557
Age

32
Homebase
After a long couple of months, the ex-girlfriend has finally decided to let me keep Finch. Finch being the first bus we purchased together and converted into a home. It's named after my best friend Cody John Finch Kandler who originally inspired me to live the lifestyle of a vagabond . Finch who committed suicide on October 16, 2009 was a big part of my life. Cody Finch who was five or six years older than I helped mold me as a human being and helped develop Core beliefes that I cary to this day .
Now I am happy to announce, as sad as it is that my girlfriend and I are separated we are both better off without each other. And having faught over who got possession of Finch for sometime she decided since it meant so much to me and she just wanted to get rid of it for some cash and wanted nothing to do with it because of the memories of us. she found it in her heart to give it to me and I am very appreciative. I am very grateful, especially since the title is in her name LMFAO.
So now I have two school buses . One 3/4 of the way converted into a home and the other well it's still school bus that I've torn the seats out of and is now being used as storage... The funny thing is that the one converted into an RV needs a new fuel tank and has clogged injector so it's not going any place any time soon. It's also in Grand Junction Colorado at my grandmothers house and I am currently in Boise Idaho in the hospital ... And the one that Runs and drives I Have a barley striped the seats out of it and it's just being used for storage ... and with my recent injury I'm not making very much money so I'm having a hard time deciding whether I want to fix the one that is converted and make it run and drive again and finish building the interior completely or do I finish stripping out the interior of the one that runs and drives and make it livable and insurable just to make it by the next couple seasons ?.