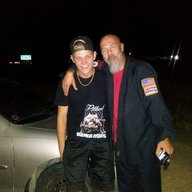 Joined

Jun 5, 2019
Messages

208
Age

44
Location
January 28, 1986
I waited and counted the days down. School had just started that day and our teacher had wheeled in the TV stand. It was a big day for schools all around the country. We were about to witness the first teacher to be lifted off into space. Then 70+ seconds after lift off that beautiful bird was gone. Blown apart into millions of pieces.
6 months before that, for my 9th birthday my grandpop enrolled me into space camp. The best time of my life. The night before our last day of camp, we were flown to Kennedy Space Center in Cape Canaveral. Two great things happened that day. I got to meet Commander Dick Scobee. The best tho, we got to go inside the Challenger Space Shuttle. I actually got to sit in Commander Scobee's seat.
I think in a way when Challenger blew, for a brief moment I felt like I was in that shuttle that moment. Then it was nothing but sadness. This morning a random video was on youtube. I watched it and realized how sad I am for such a great loss.