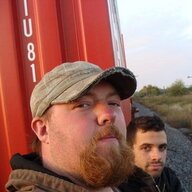 Bad Order
Staff member
Moderator
Joined

Dec 26, 2010
Messages

1,854
Solutions

1
Reaction score

7,491
Age

46
Homebase
Website
I began high school in 1990, I had... zero friends. Bert Gomez sat behind me in history class, he and I were both into punk, thrash and grindcore. He'd often whisper to me during class "Hey dude, head bang" like a request, it was so weird. We became friends. Within the school year we met Mike, Lee and Dustin. Bert played guitar and had a little experience playing drums. Lee played guitar as well. Dustin, Mike and myself were not musicians at all but we all decided to start a band anyway. We decided Mike would sing, Lee and Bert would play guitar since they knew how to. Dustin would have to buy drums and learn to play them and I'd do the same with bass.
Dustin bought a cheap drum set, I bought a cheap bass. We started practicing in Dustin's grandparents garage which was attached to their home. They fucking hated us but loved their grandchild enough that they put up with the noise. We recorded a couple songs on a tape player about a week into learning how to play our instruments. It was really fucking bad but we were so stoked on our band. Just trying to make music was fun. We'd spend entire nights until the sun came up at a 24 hour Kinkos Copy Center across the street from the university ripping off their machines for free copies, using all their supplies, taking power naps on their floor and stealing supplies on our way out. We acted like that Kinkos was our home and oddly the employees(All college students, some of them in local bands) didn't even seem to mind us. We were better at making tape covers than we were at making music.
We were really trying to hype ourselves up within the local band scene even though we were complete rubbish. The university had a radio station, 90.7 KFSR. I used to listen to it late at night and I'd spend a lot of that time on the call-in line talking to the DJ's. The DJ's were students taking courses in communications or broadcasting, working three hour shifts playing a mix of what they liked and what was on the heavy rotation rack. Paul Caetano, the midnight-3am shift DJ and I became tight enough on the phone that he invited me down to the station just to hang out while he did his shift. I've always been very observant and curious, asking questions and learning how to use the machines and boards he was broadcasting with. He taught me everything. It was a pretty basic set up, not too complicated everything was more or less marked and labeled.
I'd visit him during his shift so frequently he'd often let me announce the next songs or sometimes just take part in the conversation while he was broadcasting. I made friends with the 3am-6am death metal DJ, then the morning DJ's who played Armenian and new age. I was becoming well known around the station, even making friends with some of the managers upstairs. They'd give me free copies of promotional CD's and I was even invited to a couple parties at their houses. I felt like I was a DJ, part of their team. I had aspirations of taking college courses just to actually do it officially once I was old enough.
One day I'm at home listening and Paul says he's signing off and that the 3-6am DJ won't be coming in so it'll be dead air till morning. I called him up and said hey man.. I'll come down there and run that shit what's up? He was so chill, he said sure I don't care just don't fuck anything up and if anyone asks, I didn't let you do it you just showed up on your own. I was like fuck yes, you have my word. I called up Dustin our drummer and said you fucking have to get here right now, we're going to the station. He jams over, we go into the station(this is just a door in a hallway in one of the college buildings. It looks like any other door you can't even tell it's a radio station but the door is usually left unlocked.) and we fire it up.
I'm being good to my word, I want this opportunity again in the future so I'm playing tracks from the heavy rotation rack. I'm playing things I like but I know they're also things Paul would play. He was big into industrial so it was like Ministry, Skinny Puppy, Current 93, PigFace, Coil, Psychic TV etc. I'm being as professional as I can on the radio between songs. Paul calls in at some point and says everything sounds great. This is so fucking cool, I'm 15 years old running a radio station playing music I like! I start calling friends, waking them up. Listen to KFSR I'm the DJ! They're making requests, I'm playing them.. it was a lot of fun and I couldn't wait for it to happen again.
A few weeks later Paul tells me he's not coming in Friday night and if I wanna run his shift that's cool with him. Of course I do, and it's a better time slot this time too. This happens a few times and eventually I'm caught. There was this one dickhead manager also named Paul, he had a ginger flattop and long braided tail.. god he had the worst style. He showed up when Dustin and I were DJing and was like wtf's going on guys? You know this is illegal right? I can call the FCC right now and have you both arrested! You guys get the fuck out of here and I don't ever wanna see you back.
We left and I didn't try that again for at least a couple weeks. I tuned in, it's dead air. I show up, door's locked.. what the fuck? They're locking the door now because of me? So I leave and a few days later I show up during good Paul's shift. He doesn't like the other Paul either, we talk some shit and it's all cool he isn't tripping on me hanging out. I'm looking through records in the backroom that I wanna play and I notice the window.. it's a rather old design as the university isn't very modern. I crank it open a bit and look at the locking mechanism, this is simple I can just shove something hard in this slot and keep it from locking. I used a small piece of wood, wedging it in such a way that it would be a real chore to remove. This allowed the window to always stay unlocked even when completely closed.
Dustin and I would return days later when I heard dead air again. He boosted me up through the window and I unlocked the door for him to get in. This time we took our bands tape in with us. They couldn't play cassette tapes at the station, they had the ability to play CD's, Records, and Carts. Carts were basically 8 track tapes, like old 60's/70's shit. Paul had taught me previously how to record from tape to Cart. All the local bands at the time had tapes and they'd have to convert them to carts before they were able to play them. So I recorded one of our bands tracks over a blank cart and labeled it Citris Acid(this was the name of our band). I placed it in the heavy rotation rack and we left.
The next day we told a bunch of friends our shit was being played over the radio and to call in and request it. It was fucking amazing, I don't think it would be an exaggeration to say I heard that song play over 30 times that day. Somehow through all the moving, houses burning, cars stolen.. somehow Dustin managed to hold onto a recording of one of the DJ's that day who had played our song numerous times by request. This audio of DJ Rocket Boy was clipped from numerous times he'd reply after playing our song, all clumped together into one audio file.
DJ commentary;
And more embarrassingly.. here's that track.
So this Citris Acid track was left in that heavy rotation rack for nearly two months, finally dumb ass ginger ponytail braid flat top Paul removed it and made this big stink. He had it locked away in his desk like it was a police evidence room or some shit. I kept trying to find a way to bust it free and get it back into the station but it would never be. They locked that shit down tight and that was the end of my pirating entire radio station days.
Lee playing guitar, Bert on drums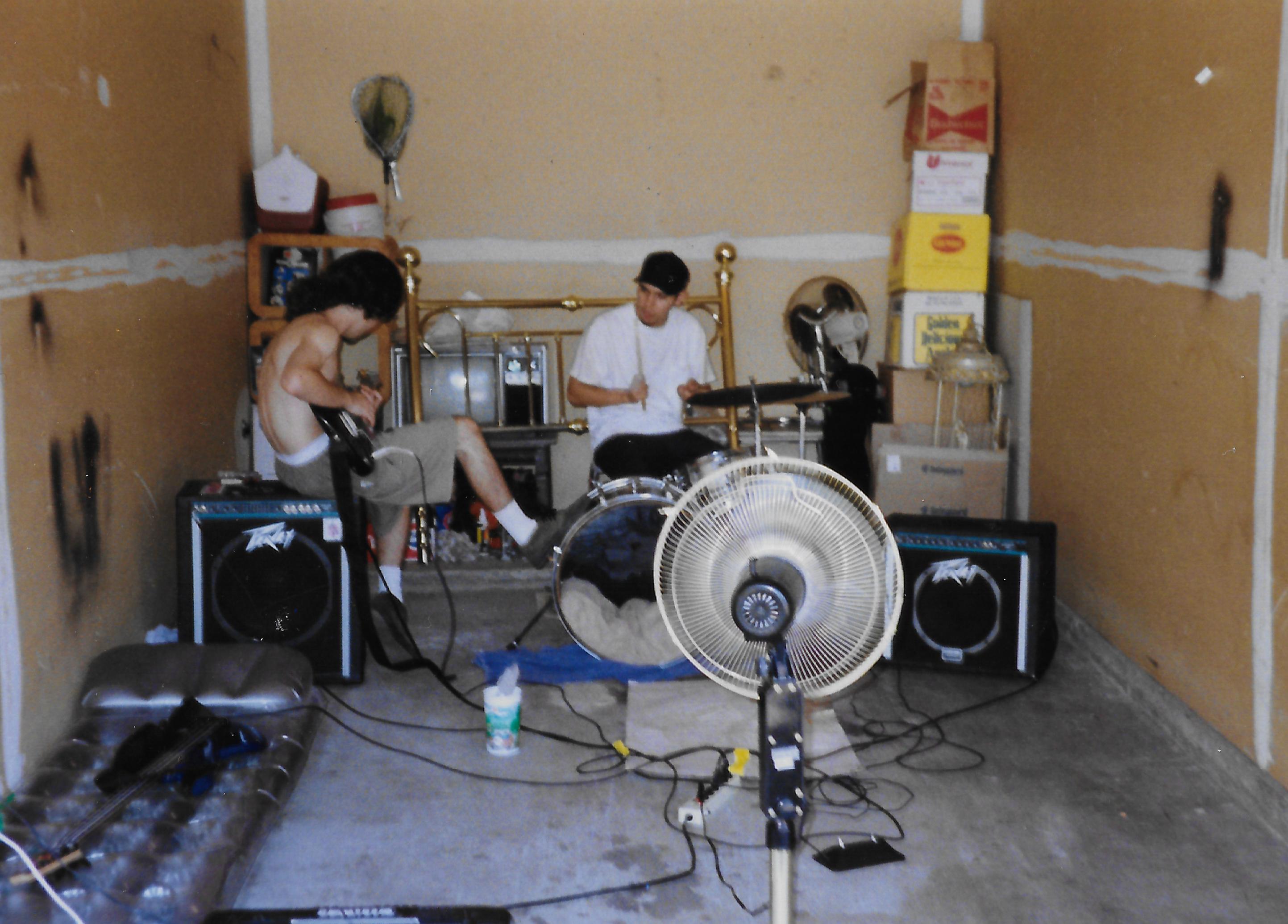 Lee playing my first bass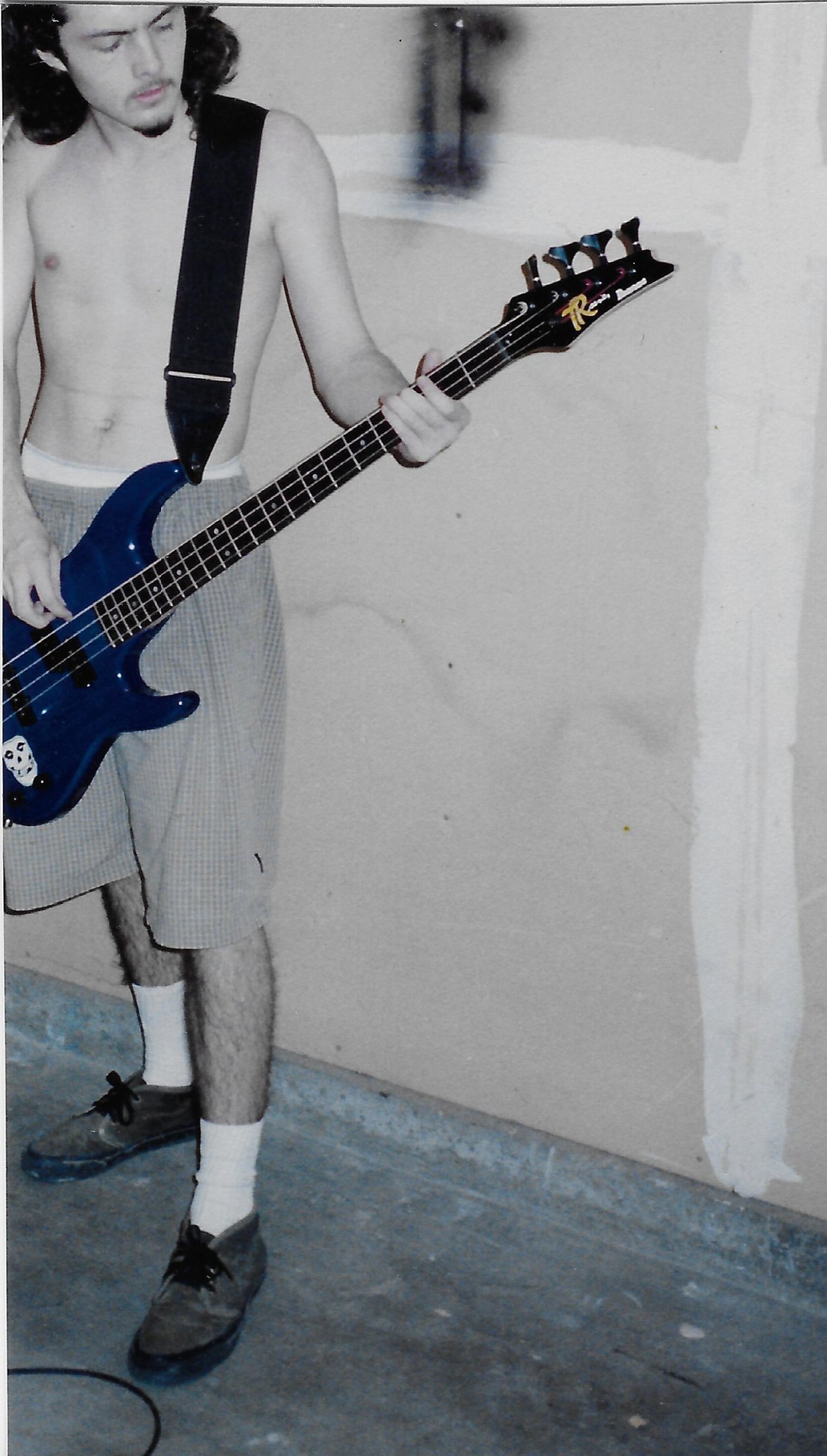 Mike, our singer hittin a fatty.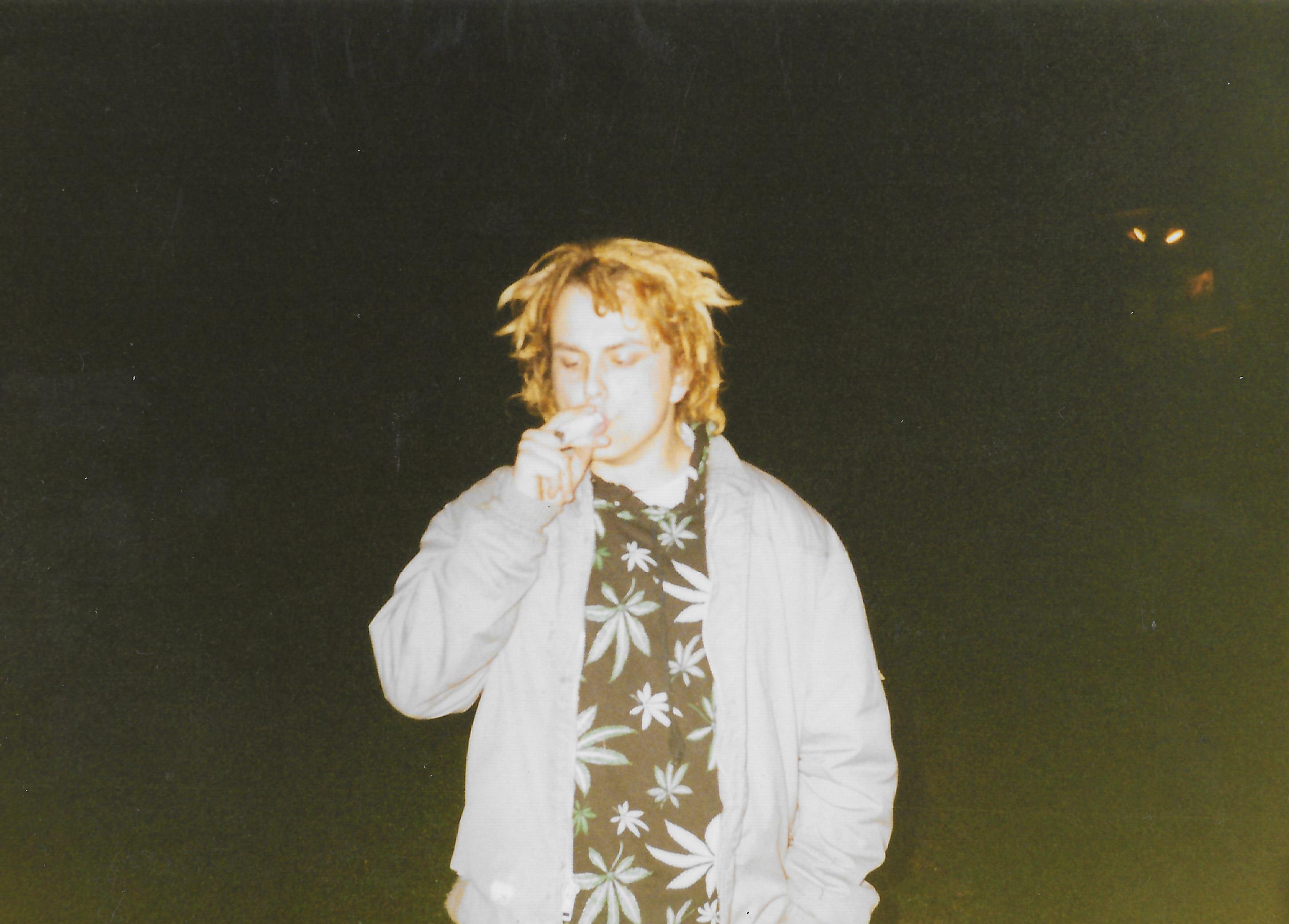 Lee pickin nose on my amp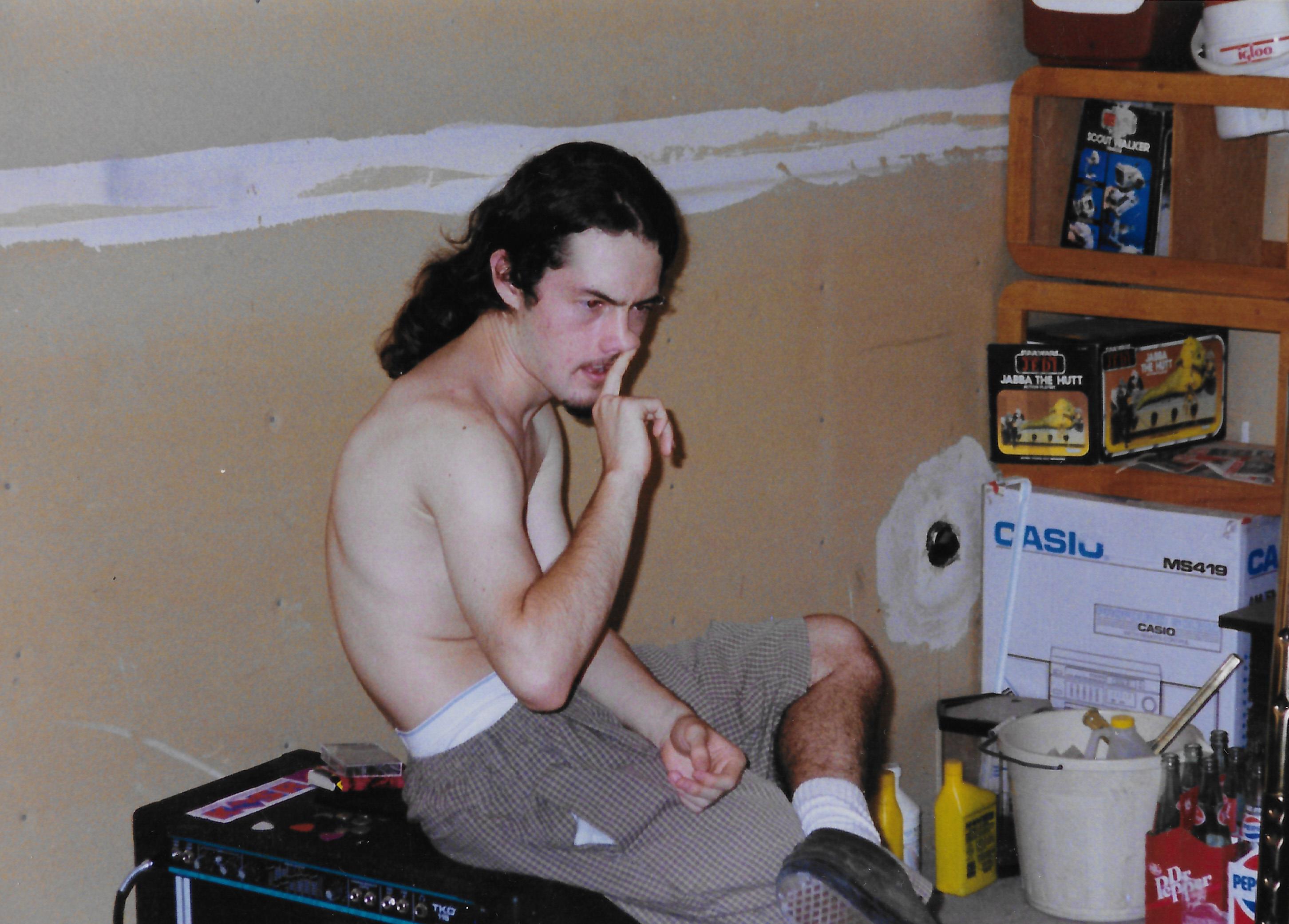 From left to right. Ugly Kid John(not in band), Tom(not in band) Myself, Lee, Mike, Dustin and Travis(not in band) in the back.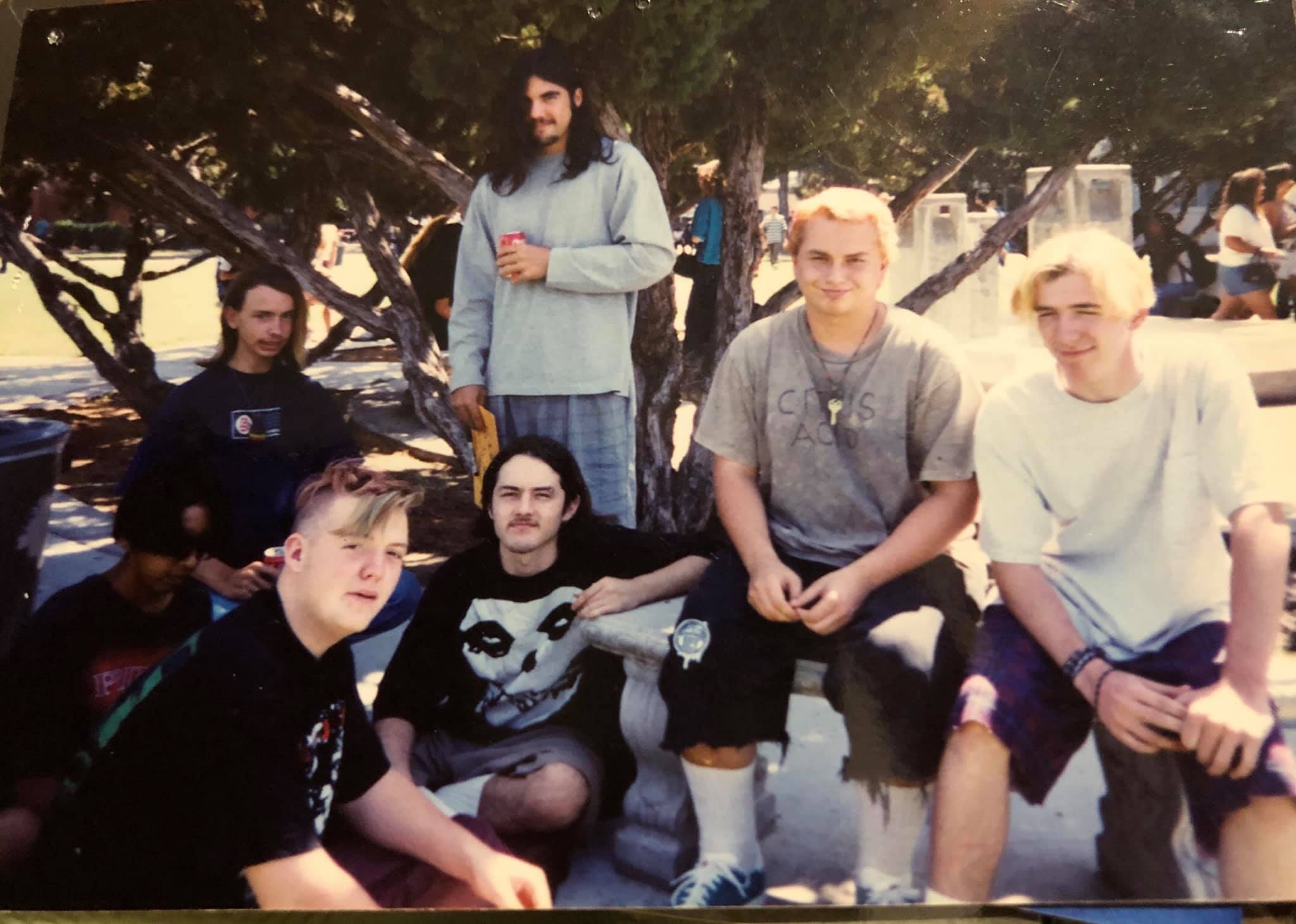 Bert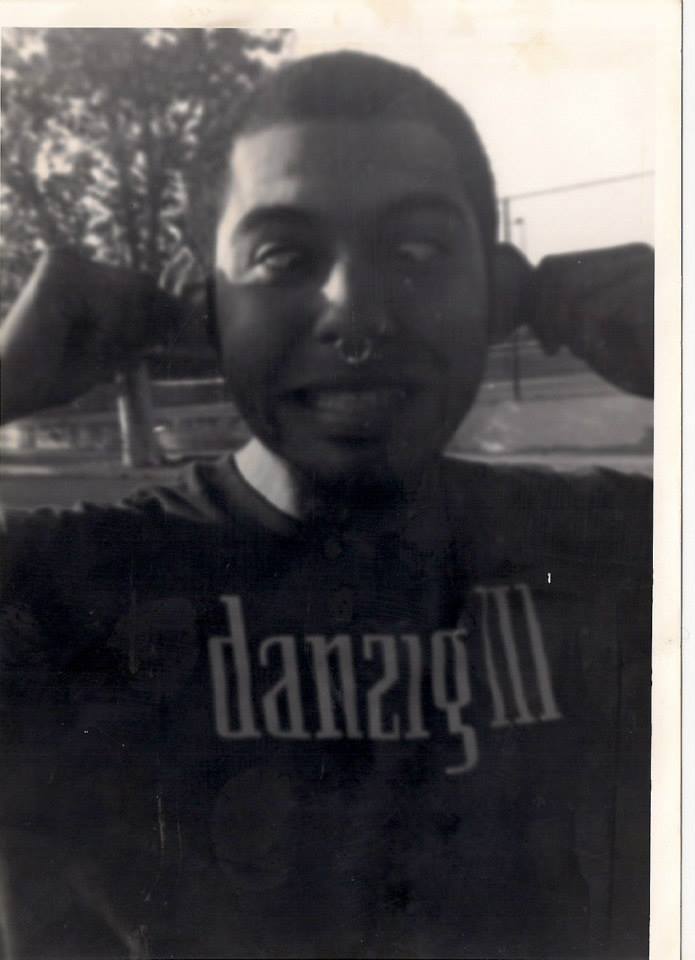 DJ Paul Caetano, without him this story doesn't exist.