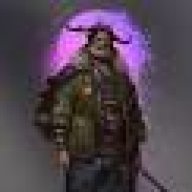 I'm a d-bag and got banned.
Banned
Joined

Dec 21, 2017
Messages

78
Hometown
You're never ever going to convince me that calling the cops on people is more moral than lying to your boss. And the way it reads when you talk about it, it seems like you're proud of your ability to call the cops and get people arrested for sniping and digging through your dumpster.

If calling the cops was a regular part of my job, I'd be looking for another job. I had to call the cops on a guy once way back when I was a fast food manager, and I still feel guilty about it.
Maybe it's different for me, small town right? I hang out with the cops, have coffee with em at the all night gas station, debate politics... etc.. Their good guys. If I got trouble... some really drunk dude threatening me with a huge ass box cutter cause I told him to turn his music down at 2 am on a wednesday (true story)... cops are there damn fast. (seriously like 2 minutes) I do appreciate that. It's not something I'm really proud of, but earlier George was saying like... "Hey I'm a guy digging through garbage for a hamburger, what are cops gonna do to me? They don't even have time to deal with me." I can understand that in a big city but really
really
not the case here.
In a lot of ways the cops here are like me, small town guys, they have compassion, generally want to help ya and will if they can, but they got a job to do. giving em attitude when their doing that job isn't a good idea.
and about that "tell your boss" thing... let me put it this way... if your a new hire at my place I'm going to know pretty quick if your doing your job or not. It's WAAAAAAAAY better to be straight with me than to try and bs me.
I had a girl here for a year or so that just could not take dealing with another employee. Got so bad they weren't allowed to talk to each other and had to pass communications through me. She didn't want to quit but I made some suggestions... I got her another job at a different hotel that paid $2.00 an hour more than my hotel, had the morning shifts she wanted and could never get here, and had better benefits. We're still friends, she brings her kids over to see me.
I pretty much know the owner or manager every winery, restaurant, hotel, bike rental, ice cream shop, mechanic, and tourist focused business in the area. If your not happy at the place I manage... if your a good honest hard worker and just don't like this job, I'm happy to get you a job someplace where you will be happy.
but lie to my face, pretend to do the job your getting paid for while conning me... after I find out, after you get fired, when the new person considering hiring you calls me and says "Hey Jeff, so you didn't give this guy a recommendation letter... I'm assuming this one is a 'not eligible for re-hire' ?" you aren't getting hired in this area, good luck with your move.
That's why you should be honest with your boss... this boss anyway.