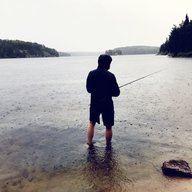 PilgrimAflame
StP Supporter
Joined

May 31, 2009
Messages

440
Location
I'm going to the Andes and Amazon of South America for the summer, where weather ranges from -5 to +32 C depending. Mostly I've just traveled in North America and exclusively tropical places before.
What can you recommend as far as pants go? I need something that will help me avoid mosquito bites in the jungle and be relatively cool, but also won't shred the heck up in a jiff. I am bringing my fleece long johns so have that as far as minus temperatures. Obviously Carhartts are out of the picture (though I may leave them in Chicago beforehand so I can pick them up for waltzing around the Midwest for the second half of summer), because they're just not worth their pack-space as a secondary pair of pants.
What material is considered most cool [not trendy
]? I have an old pair of black slacks that are cotton and fairly light. I don't need easy-dry stuff, just light and airy. Is cotton the way to go?
I'm going to get something at a used store nearby.