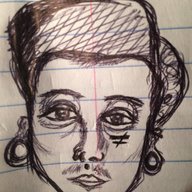 Joined

Jun 13, 2017
Messages

41
Location
Ive always had the really strong desire to travel and not spend my life sitting in one spot, but always thought i would wait until i had "enough money."
A while back, i stumbled across the whole slew of dirty traveling kid bands that exist out there, and they inspired me in ways no other musicians ever have. I believe myself to be a true musician at heart, and making music is all i want to do, to spread hope and ideas that could help the world in many ways.
The whole idea of playing music on the street really appeals to me because its so personal and requires no money or planning really. There's no need to get gigs or find a stage. I feel like this is something i realt want to do, but i am a complete noob when it comes to being on the streets.
I feel that (probably) a majority of kids that live a nomadic life either were basically kinda born into it, or had some hardships or awful family life they were leaving behind. Could anybody guage roughly how common it is to meet a traveller that got into the life without something major happening that they just needed to get away from?
Interested to hear peoples points of view on this; it would be nice to hear from others that are kinda in my same boat. Dont have any reason i HAVE to leave, just feel like i have to get out of the 9-5, financially stable life im being continuously pressured into.