In June, I graduated from high school. I worked my ass off to get there and it was fucking awesome to be done with it. The problem was that I had no idea what the fuck to do after I was done. I thought about traveling but ultimately decided to work and save up some money first. Around the same time my mom started preparing to move out of the house I had grown up in and move out to the sticks.
So less than a month out of high school, I started applying for a bunch of jobs and looking for a place to live. I had the idea to find both in one place so I looked for places with employee housing. So in addition to all the jobs I was applying to in town I applied to work at several parks and resorts around the country. I eventually landed a sweet gig in town stapling posters on telephone poles that paid really well. After a month or so of that, I got an email from Yellowstone Park asking if I could come work for them. I had totally forgotten that I had even applied to the job. I thought about it for a while then decided to take the job. Less than a week after the job offer, I had said my goodbyes and headed to Wyoming.
I worked in the Canyon General Store as a fry cook. There's a 50's-themed soda fountain in the store that serves mediocre food like burgers and eggs and shit. It was my job to make that mediocre food. The pay was $8.85 an hour. I worked five days a week on split shifts. Early shift was seven to noon then three to six. Late shift was noon to three then six to about ten. One week I would work early shift then the next week I would work late shift. The work was simple but fucking exhausting. I had to take a nap between shifts otherwise I couldn't function. So five days a week all I would do is work and sleep.
I stayed in the employee dorms with about seventy other people. The dorm rooms were small and dreary. There were two beds (I didn't have a roommate but most people did), a dresser, and a desk. The cost of a room and three meals a day from the employee dining room is about $90 a week and it's taken out of the paycheck you receive every Friday.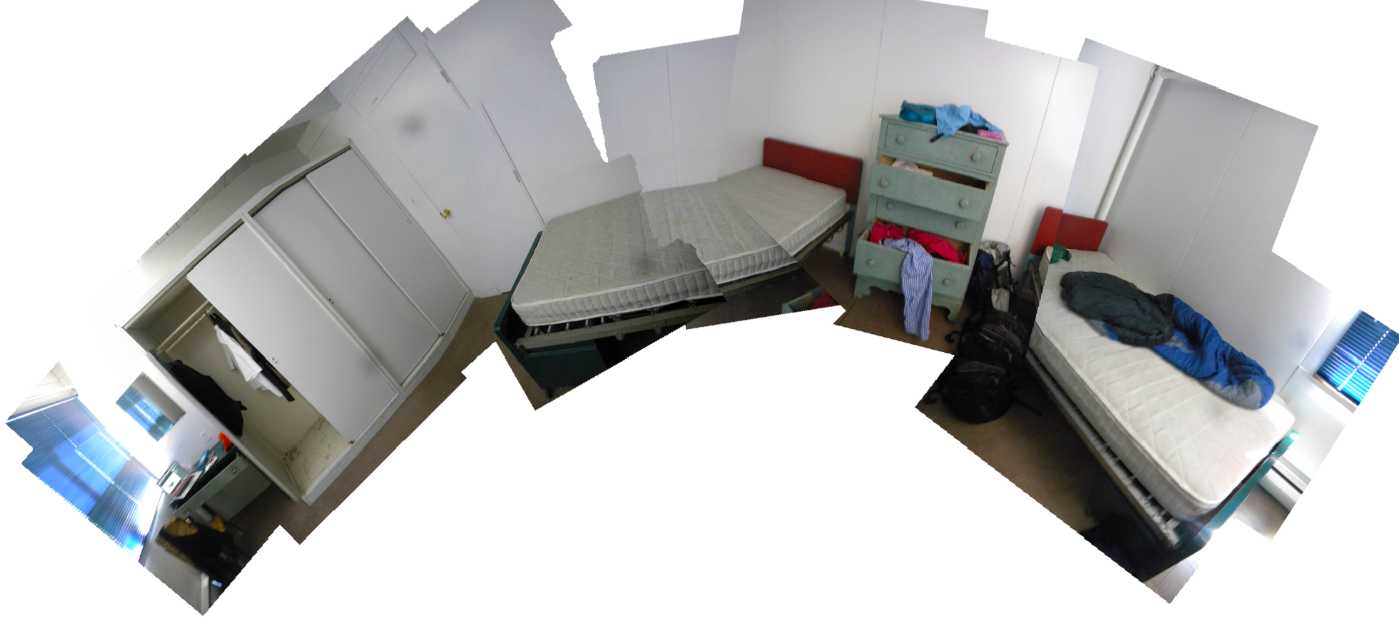 A panorama of my depressing room
A lot of the employees are from other countries. About half of all the employees were students from Taiwan but there were also folks from Poland, Slovakia, and Colombia. Everyone there was super chill. People hang out a lot when they're not working. Since there's not much else to do, there's a lot of drinking.
On my third or so night, I was hanging out in the rec room with some coworkers. Everyone knew I was 19 but didn't care if I drank. After drinking half a can of beer, two park rangers walked into the room and started giving us shit. The whole situation is complicated and totally fucked up but basically they ended up writing me and the two other minors in the room violation notices for being minors in possession. I was issued a court date. The shitty thing is that normally the rangers wouldn't show up there but my coworkers were hanging out with a kid who used to work there but was fired after getting his second MIP. He was banned from company property but for some reason he came back. Someone must have seen him and called the rangers. They clearly had it out for him because when they were talking to me they asked a bunch of questions about him even though I had only met him that night. So if he hadn't shown up I wouldn't have gotten busted.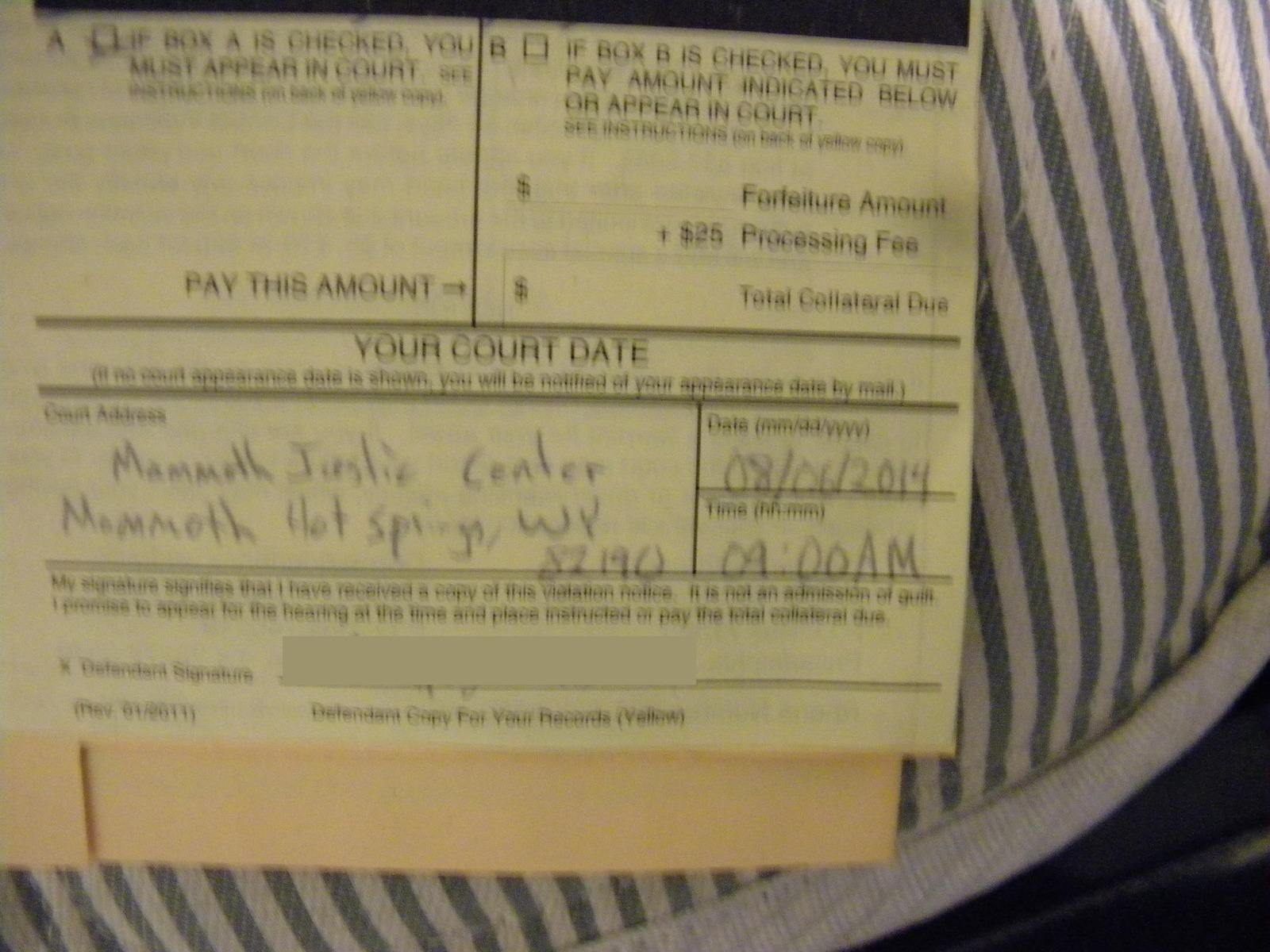 My notice to appear at Mammoth "Justic" Center
So that happened in my first week. Even though it was my first offense and I knew I would just get a slap on the wrists, it still fucking sucked and put me in a shitty mood for a while. My boss didn't care (he was there drinking with me) but his boss issued me my first and final warning and said that I would be fired if I was even so much as late to work. I later learned this was pretty much a bluff because they were so understaffed that they couldn't afford to lose me.
I didn't do shit on my two days off. I don't drive and most of the hikes and other sites in the park are only reachable by car. I didn't know anyone well enough to ask them to drive me and felt weird inviting myself to stuff. In the three weeks I was there, I didn't go on a single hike or really see anything in the park. This is obviously nobody's fault but my own and I don't doubt that I could have seen more shit in the park had I tried harder. But I didn't so I spent my two days off sitting in my room. The dorms don't have wi-fi so I would spend all day sleeping, reading, or writing. Inactivity always makes me really depressed so my days off kind of sucked.
My court date went as well as it could have. Me and the other minor drove about an hour to the courthouse in the park and discovered it was the day they dealt with all the minors in possession. There were about five other kids in the room all of whom had gotten busted for drinking in the park. We all were first-time offenders so we were ordered to pay a $45 fine and take an online class about the dangers of alcohol. The class was easy but took a couple hours.
I got off easy but was placed on a bond that would require me to pay $500 if I got busted again. I swore not to drink there again but broke that promise later that night when someone broke out the Fireball. I just made sure only to drink in closed dorm rooms and I was good.
After about three weeks I decided to quit. I wasn't getting anything out of it and didn't see a reason to stay till the end of the season (September 29th) if it sucked. I gave a couple days notice and caught a flight back home from Bozeman.
I didn't like it but there are plenty of folks who do. A lot of people come back every summer to work. If you can tolerate the work and really like hiking, it might be a good fit. Personally, I couldn't stand the work, missed being in Seattle with all my friends, and didn't feel like I was getting anything positive out of the experience.
So that's my story of three weeks in Yellowstone. Feel free to ask any questions and I'll answer them to the best of my ability.