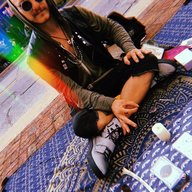 Joined

Nov 21, 2017
Messages

3
Location
So, there's this fella named Santa traveling around the country.
Now, you may associate Santa with giving gifts, but this particular Santa is much more interested in stealing them.

Short version: She stole shit from me and my road dog, as well as several other street kids. When asked to give shit back, she actively disappears. DO NOT TRUST HER. She will steal your shit.

I should have been tipped off when I almost got jumped over a pair of boots and sleeping bag she gave me when we first started traveling together, claiming that the person she got them from had "never asked for them back".

We traveled out to Denver together, things seemed normal, but the first major falling out we had, she refused to let me get my stuff out of her car, and moved the car in the morning before I woke up.
The second time around, she disappeared with a bunch of my and my road dog's stuff in her car, including his meds. We spent hours trying to track her down, and she was barely willing to engage with us when we found her.
She still has some of our stuff, which she's since skipped town and come back with.

She's since stolen things from at least three other kids out here that we know of, and refuses to show her face around any of the street fam or dirty kids.

She's 26, real name is Nikki St.Germain (St.Nick, Santa), She's 5'-something, skinny af, blonde with a braided mullet, usually has a pet rat (or two) with her, claims to be a witch.

If you see her, don't trust her, don't travel with her, don't let her borrow/watch your stuff.
She will steal it.