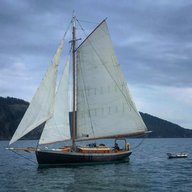 Joined

Dec 27, 2018
Messages

95
Reaction score

377
Homebase
Heyo,
Long time lurker, first time poster.
Been living a traveling punk life by land and sea in and off for the last decade. Currently full time liveaboard in the San Juan Islands.
Looking for other local
boat punks
. Maybe plan some meet ups, get ourselves organized a little, help each other out, help others get into the lifestyle here in the PNW, etc.
Beach parties, hikes, music, and tons of water to explore. I'm tired of the yachty crowds and want to get the crusty boat punks hiding out there in the PNW waters meeting each other and building a community. It's a hidden paradise up here. The perfect place for a bunch 'o boat punks to build up a sweet community.
Not to mention what we have to offer other traveling kids as both a means of travel and a destination! Impromptu folk punk fest everywhere we drop anchor...
Anyways, general shout out, looking for other hiding out there, riding out these gales!
Fair Winds
S/V CROW