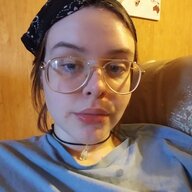 Joined

May 11, 2021
Messages

3
Reaction score

1
Homebase
I have almost no experience being out on the road on my own but spent a portion of my childhood hopping around from shelter to shelter with my fam. When my mom kicked me out last year I spent some time with the punks in my town and I've been dying to get out on the road ever since.
I'm sick of being in this tiny ass town with it's tiny minded individuals. And my mom is sick of me and makes sure to remind me of the fact every time she gets upset with me.
Until I get my license I'm planning on
hitchhiking
/trainhopping if I can. I live in a small town wit a LOT of trains. The only reasons I wouldn't do it is if I decide I'm not ready and can't find a road dog to show me the rails.
I'm an artist. I draw, do custom designs on clothes, write, take cool pics sometimes (lolll). I am also super spiritual and into anything related to nature. Right now specifically foraging. I can also cook, so hey. What's up lol.
I'm willing to learn, so if anyone has advice, suggestions, etc. Pls let me know.