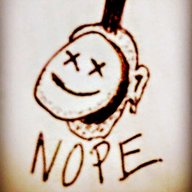 travelling through time and space
Joined

Oct 9, 2017
Messages

43
Location
Hey everybody! So like the title says, I've been lurking this place for a LONG time. I've never had much of an online presence; I'm not really one to participate in forums... But this place is awesome and I can tell I would get along with a lot of you in real life.

So, I'm about to hit the road soon- heading south from Pennsyltucky to live off my motorbike for the winter. Just wanted to say hello and maybe even meet up with some good folks along my way.

Stay cool, you beautiful community.