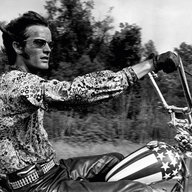 Joined

Aug 13, 2019
Messages

8
Current Location
Look for dry wood and dry pine needles - they'll be under the wet stuff or under the edge of a log. - Make sure you prep well with a decent air space for the oxygen to get in, have extra kindling and wood set aside (under something that will block rain), so once you get things burning you can keep it going until it becomes self sustaining.

I keep cotton balls that I cover (well) in Vaseline and keep them stored in a couple of 35mm plastic film containers. They are cheap, lightweight, doesn't take up much space, and they keep things dry, and you can pack a LOT of prepped cotton balls in them.

You can also easily store dryer lint in 35mm film containers as well, as the lint is free; just check any dryers at the laundromat; most people are too lazy to clean out the lint trap, so there will be more than enough for you. If you're already stuck somewhere and didn't prepare, gently rub a knife along your pant leg and you can get some lint that way, but it's way smarter to be prepared and keep some on hand, that way you're not wearing jeans out faster.

As for a fire starter, I have always preferred the magnesium / flint starters that you can find just about anywhere. A P38 can opener can be used as a striker, or a small piece of hacksaw blade, and it can easily shave off some magnesium when you need it. Be sure to keep your striker on the on the ball chain of the magnesium bar. The backside of a good carbon steel knife works very well as a striker too.

Waterproof matches come in handy, and if you have any Fritos those work about like a match with all of the corn oil that is in them. There are also all sorts of inexpensive lighters you can buy. I still prefer the magnesium bar setup, as it is about as foolproof as you can get.

Just be sure to practice with whatever method you choose BEFORE your life depends upon it!