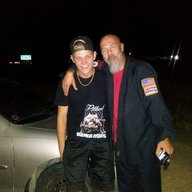 Joined

Jun 5, 2019
Messages

207
Reaction score

559
Location
I think the last time I was able to actively post on STP was last December. I had taken my son on his first trainhopping adventure. During that adventure the screen on my laptop broke and when I was able to afford to replace it. Once it was replaced... I dunno, something else went fucky with my laptop to where only half the keyboard worked. 2020 totally fucked me up. I know its been a long minute.

Last March, due to Covid-19 I had to close the doors to my Karate Dojo. To be honest I have 86 students who pay $25.00 a month fee. This was my regular source of income. Since then I had to go back to work doing surveillance for a PI firm. Now I get off work, come home home, eat a quick dinner and sleep. Then i wake up 30 minutes before I have to leave for work.

Friday June 26.
It was like every other morning. Up at 5am. Jump in the shower. Around 5:20am that morning all I remember was leaning over in my chair to tie my shoes so I could leave for work at 5:30am. I woke up in the ICU with IV's in each hand and each arm. I guess when I hit the floor my dog went to my sons room and barked until he woke up. My son found me on the floor. When I woke up in the ICU, I was told I had a stoke. A blood clot was logged deep in the right side of my brain. I'm 44 fucking years old and I had a stroke???

The scary part is that during my week long stay in the hospital, all the blood tests came back good. No clotty blood. Nothing abnormal. And through all the MRI's and ultra sounds, they cannot find where this clot came from. They put me on Aspirin 325mg for a blood thinner and told me to keep regular appointments with my doctor. All I can say is that I am so greatful for my dog who saved my life.

I am feeling back to normal tho. I cut out all fast foods and energy drinks. I just wanted to let everyone on STP that I've not abandoned STP. Just doing what I can to stay afloat and healthy. I hope to be back posting as I normally did soon. VERY SOON!