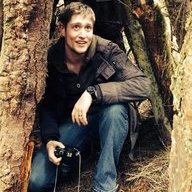 Joined

Oct 19, 2016
Messages

3
Hi, guys My names camon, I'm a 26 year old combat veteran. I have a lot of interests and hobbies, but the biggest two is traveling and writing. I am from a small lobster town in Maine, and have not spent over a year here since I was 17. I am just now striking out on a trip backpacking across the country adding more and more stops to visit/meet people along the way, the secondary goal to this journey is to finish my book that im writing. This book is a compilation of stories (mostly shenanigans) throughout my travels, both as a civilian and a soldier.

Quick disclaimer, the least favorite topic i have to discuss is politics. I am very open minded and accept about 98% of peoples views, actually learning from them in most cases. So if you cant be open minded when discussing it thats the one topic i ask you not to get me into haha.

In my non traveling time, i have many interests so I'm just gonna throw them up here:
Gaming, Reading, Cooking, Drawing, Tattooing, Digital media creation, sports, hunting, survival, writing, Music, camping, anything for an adrenaline rush, photography, spirituality (across the board, but i have a focused interest in wicca/paganism/druidery etc.) the art of storytelling, especially around the fire. the list goes on, but i think you got the jist.