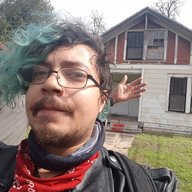 Joined

Mar 31, 2019
Messages

7
Current Location
Howdy folks, names Nicholas, aka Rusty aka Possum.
I currently live in Austin, I work full time as a pizza chef in a bar. Recently sober from booze and going through the steps. At the moment I'm renting a lease on a house, but after that's up everyone wants to go there separate ways leaving my situation up in the air. I'm hesitant about signing another lease elsewhere as I believe my time in Austin is soon coming to an end. I may turn back to couch surfing, but being homeless is a real possibility at the moment. I dont have a car or know how to drive so if I dont couch surf my only other options would be the streets, a shelter or trying to find a place to squat.

I've never really been homeless before so it's kinda stressful, and I dont want to leave yet because I still need to save money to even try to get anywhere else.

I'm also an aspiring musician and anarchist, I would like to form a punk band and travel, but atm my life is in a weird transitional period.

Hope y'all are well.