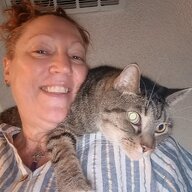 Joined

May 19, 2015
Messages

787
Reaction score

1,020
Location
Not really an introduction...

But being as I don't get here as often as I'd like (the husband's health continues to slowly spiral downward and that keeps me busy) I might as well introduce myself because I'm sure there's new faces here.

Long time member, Bohemian Free Spirit trapped in the urban world and cornucopia of many things...

Author, Minister, Outreach, Filmmaker, Musician, and more ...

This post is about my Outreach Father Cedar's Sisters.

I post this from time to time and our fearless leader is good enough to indulge me...which is appreciated.

If anyone in their travels, finds themselves in Citrus, Hernando or Pasco Counties and needs toiletries or clothes, let me know. My Outreach has both...always free, NEVER any strings.

Just text me at 727 858 1861.

This old thing can't keep up with this whole technology and you young uns like I once could, so I might miss your message if you reach out on here.

Hi newbies, hi old friends...Miss y'all!

Peace!