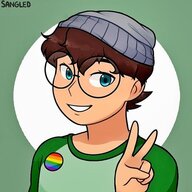 Joined

Apr 17, 2021
Messages

7
Reaction score

7
Homebase
Hello, I'm Dree. (Dree rhymes with he and scree) I've been wanting to walk around the US and visit every state since I was real young. I waited to join here and really start planning until now because I'm almost legal. I'm non-binary and polysexual. I'm mostly attracted to dudes but I wouldn't rule out girls
Currently in Florida, but hoping to start travelling by no later than the end of August 2021 to escape family. I have travel and hiking experience, though not a whole lot. I know the basics for the basics and a good chunk of theory. I've always been a fast learner though, which I'm proud of.
I'm a bit meticulous and definitely a nerd but I still know how to have fun. Hmm, I'm a professional idiot and can speak fluent dumbass, shitpost, and I'm still working on my English ;p I love dogs (going to be travelling with one actually) I can't do music to save my life though I wish I could more than anything. I can draw and do art, but you might have to wait a whole year to get the final product lmao. I'll have a friend with me for my trip too, pretty stoked. Oh and, my favourite colour is green. It's
dark green
usually, but
lime
is rad too. I use British spelling for some things, it was just what I encountered the most so I picked up on it more than American spelling.
Last edited: